With America's current state of affairs— often too much bulge around the waist and too less in the wallet—business "fun days" or "field trips" are not a luxury but often a lifeline to keep overworked staff afloat.  For organizations that are soaring despite the economy, time for well-deserved recognition is essential. The Center makes such worthwhile occasions possible.
The Center welcomes and encourages corporate guests. Corporate fitness events usually include raffles for free memberships, complimentary personal training consultation, and access to all the facility's offerings. Refreshments are also provided. The feedback from our corporate and small business guests is always positive.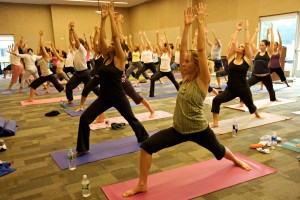 Often, these "corporate time-outs" are a learning experience for many who never previously visited a fitness club. Some visitors need a lot of guidance, and Center staff is there to serve. "We're informative and professional. We keep the tone light and fun. After all, it is a day to recuperate from life's stresses," states Linda Daly, of the Center's sales crew. We're prepared to explain everything from how to properly lift a dumbbell to good nutrition," she adds. Many enjoy the various Group Fitness classes taking place during their visit. Yoga, Zumba, kickboxing, and cycling are frequent favorites. The Aquatic Center is also available for those wishing to take a swim or soak in the hot tub.
Power Lunch
A healthy lunch from the on-site café provides a convenient opportunity to gather your team. Convene in our conference room where you can dine, brainstorm, and share company announcements and news. Built on the philosophy of a team-building approach to wellness, by nature, the Center is ideal for inspiring a collective positive outlook.
Corporate Getaway Days
Spending time "out of your element" helps avoid mental ruts and boredom in all facets of life. Taking a time-out from the office can spark creativity and a fresh approach to tasks. One corporate guest exclaims, "We left feeling great. It was very productive!"
It's also an occasion for coworkers to shed the corporate structure and connect on a more personal level. Days filled with deadlines, meetings, budgets, and weighty decisions leave little time for water-cooler chat and coffee breaks. Bringing colleagues together outside the office provides a chance to become a team, not just a department in a company. Common interests are discovered (for example, preferring Yoga over Pilates or tofu over hoagies). Connections are made. Business gurus agree this is critical for building a productive, friendly workforce.
Many attendees decide to join the Center after their day of fitness, including taking advantage of our on-site rehabilitation services. With the healthcare economic challenges that today's companies face, supporting wellness is an ideal preventative strategy. Additionally, these new members already have the advantage of knowing each other, which is motivating both in front of their computers and on the Exercise Floor.
The Center offers a generous corporate rate, which consists of a discount when 10 or more employees join. "Our goal is to invite the business community to enjoy a healthier lifestyle and the numerous benefits that result from such activities. Our mission is to demonstrate a better way to combat stress, fatigue, and the inactivity that often accompanies long days at a desk," informs Linda.
Charged with energy, attendees depart ready to tackle both office tasks and their health. After accomplishing a day of team-building done in the spirit of wellness, many come to the same conclusion. Skip the sandwich platters and bagel trays, under potentially rainy skies. At the Center, the atmosphere is always motivational.
Give Your Employees a Time-Out
To schedule a free inspirational day of fitness and fresh focus for your staff, please contact the reception desk, our general manager, or Sheri Firstenberg at 609.683.7888 or Sherif@fitnessandwellness.org.
Image credit (workgroup): www.flickr.com/photos/lumaxart
Related Articles: