by Michelle Sutton-Kerchner
Save the scary stuff for little goblins and wicked villains. Halloween doesn't have to trick you out of your healthy ways …
For many, Halloween opens the door to a year-end flood of food and holiday festivities. (And you thought they were just trick-or-treaters!) That one handful of candy corn can be the excuse for a string of bad habits for those with an all-or-nothing mentality. A year's worth of healthy habits are suddenly mixed in with discarded candy wrappers.
Fear not! You can embrace Halloween– and the upcoming holidays– and maintain your healthy lifestyle.
Eat Nutritious Meals
Pile up your plate with fruits, veggies, and lean proteins. Flavor well and enjoy your dining experience. Leave the table satisfied. It's best to wander the season full and satisfied when snacks are sugar- and calorie-laden. When you do indulge in that special treat, it won't be at the expense of a healthy diet.
Be the person who hands out mini pretzel bags on Halloween. Get creative in your treats– distribute decorative pencils, plastic rings, or stickers. You can buy these in bulk where party goods are sold. Think outside the candy bag. One house gave out guitar picks. Interesting, although odd. You may inspire a future musician. Bring cheese and fresh fruit to parties in place of sweet baked goods. Offer to make salads, soups, and side dishes for dinner parties instead of desserts.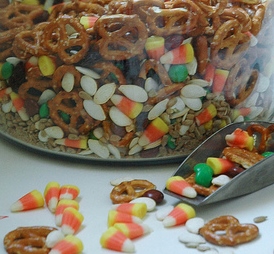 What to do with the sweet loot? Combine candy with healthy snacks like dry cereal, dried fruit, nuts, and seeds. Donate some to a local shelter, pantry, nursing home — or music school (those guitar picks).
Banish Fitness Anxiety
The newbie often entertains countless scenarios and fears when starting a fitness program. Even the exercise veteran may struggle with scary form, fitness plateaus, or inconsistencies. Meet with a personal trainer.
As a member, you have the privilege of routine fitness evaluations. Whether it is your first time at the Center or your hundredth, a trainer can assess your abilities and provide professional insight on how to proceed. A trainer also can demonstrate the proper way to use exercise equipment. No more worries about a foolish mishap on that interesting but unidentifiable exercise machine.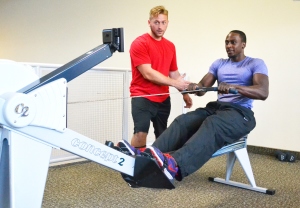 Consider working with a trainer over the next few months. This will help you remain committed to fitness during the hectic holidays. It also will help steer you off the downward spiral of guilty eating, often synonymous with the holiday season.
The presence of extra goodies, and absence of extra time, signal the need for quality workouts. Make your time at the Center count with the help of fitness trainers and instructors. Learn effective yet efficient exercise programs that can blast off the extra calories in a manageable amount of time.
Keep It Real
Losing "our way" is one of the scariest outcomes to happen this time of year. Despite months of striving to live our healthiest, there are days that threaten to jeopardize efforts. These days seem to occur more frequently as cool weather arrives and comfort foods are craved.
Allow yourself the occasional slip, whether in caramel form or a lazy night of reading and television. It is not a catastrophe. It does not signal a downfall. It is one moment in a lifetime, independent of all other choices.
We are not machines. We are human. We deserve random indulgences. They make the taste of success that much sweeter.
Did someone say sweets …
Image Credits
Halloween trail mix: www.flickr.com/photos/jodimichelle/10059731284/
Related Articles: