Routine health evaluations with the Center's nursing staff prove to be a motivating tool in accomplishing fitness goals. All new members have the opportunity to undergo an initial nursing evaluation upon joining. The results are recorded and act as a gauge throughout your fitness journey. Allowing you to see where you started and follow your progression along the path to fitness is a powerful asset. Acknowledging accomplishments, including those that can't be detected on a bathroom scale, is inspirational.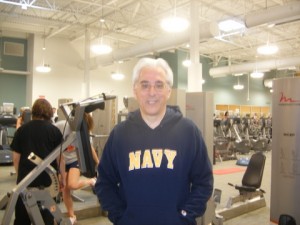 Member Dr. Bob DiSogra, an audiologist in Freehold Township, considers his evaluation results. "I went from having a body typical of a 67-year-old (at age 57) to that of a 54-year-old (at age 59). A 13-year improvement in only 13 months!" Bob exclaims. Recognizing the positive impact exercise has in your life is critical to success. Having a medical expert explain your progress on paper, and share your fitness experiences, adds validity to your efforts and their outcome.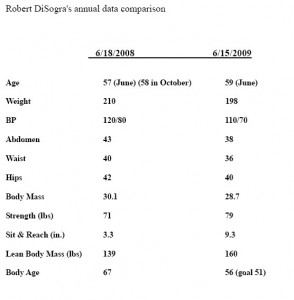 Also, having a health professional rooting for you can get anyone out of bed for an early morning fitness class. "Those early rises to be at the Center by 5:00 a.m. were a real challenge. However, I had a goal. Despite the many times I wanted to roll back over in bed, I knew the Center staff was there to help me. I wanted help and I got it here," shares Bob. He notes that the Center has introduced him to excellent Group Fitness instructors who were also key motivators in his fitness endeavor.
Member Harry Kuhn has enjoyed a similar age-defying experience. Although his chronological age is 62 years, his nurse assessment shows a physical age equivalent to that of a 52-year-old. "In great part, the precision with which Nurse Kimberly obtained the computer-assisted measurements made for this remarkable outcome. My nuclear stress test results match the Center's nurse assessment results because Center staff insists on the smallest margin of error," states Harry.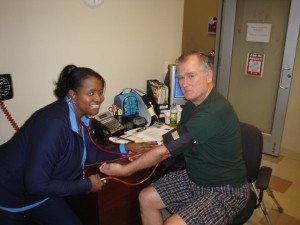 Through his health evaluation, Harry also discovered he didn't need to lose much weight after all. "I felt like I was overweight by about 40 pounds. In actuality, I only needed to lose about 10," informs Harry with a lightened load of anxiety and frustration. Our membership comes from all walks of life. At the Center, you aren't expected to be a health expert. We provide that expertise so you can focus on becoming healthier and more fit with help from the knowledge we share.
For a member like Harry, on-site health support provides great peace-of-mind. Dating back to 1851, his family history reflects an average lifespan of only 62 years, mainly due to cardiac disease. "When joining the Center, I was on a collision course with death," Harry states. "Only God knows if I have extended my life expectancy. However, I surely have increased my chances of outliving most of my male ancestors."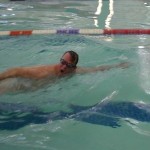 With the knowledge that his blood pressure is routinely monitored and medical experts frequently "make the rounds" throughout the Center, Harry can enjoy his workouts. He now trains five days per week for a minimum of 30 minutes, as recommended by his cardiologist. "Muscle has replaced fat, energy has replaced lethargy, and anticipation of future life has replaced dread of dying from a sudden death," he attests.
Harry's daughter-in-law asked him to get in the best of health so her future children could enjoy Grandpa Kuhn. (Both she and Harry's daughter are expecting early next year.) "That has tremendous holding power for me. I plan to follow through, with the help of the Center," he says jovially.
Fred Halperin chose the Center over other facilities to be "part of a fitness community, not just a member at a gym." He attributes part of this holistic experience to the nursing assessment recommended upon joining and periodically thereafter. "This not only gives me peace-of-mind that medical services are at the ready, but that the Center cares about more than how many reps you can accomplish," shares Fred. He also values the Center's hospital affiliation, with its myriad of interesting health-related seminars. "The medical aspect and focus on total wellness definitely set this club apart," Fred indicates.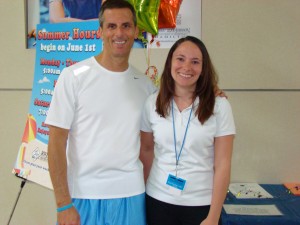 Like others, Fred's interaction with the nursing staff has had positive effects on his fitness results. "Nurse Krysti appropriately cautioned me in certain areas, as well as urged me to consider adding other forms of exercise to my routine, such as yoga and Pilates. She also provided nutritional suggestions," Fred informs about his nursing assessment.  Having such information shared on a regular basis is helpful in obtaining the best results from your current exercise program and the ones to which you progress. Also, developing an ongoing rapport with the Center's medical experts allows members to feel comfortable approaching them with everything from basic health questions to more serious concerns.
The nurse managers strive to make their team easily accessible to all members. They are encouraged to leave the office and monitor activity on the Exercise Floor and around the facility. Fred comments, "Members feel more comfortable knowing there is nursing support beyond the nurse's office.  In addition, having a proactive and visible nursing staff promotes the feeling of a wellness center and not just a 'gym.'"
Schedule Your Next Nursing Assessment
Consider nursing assessments as a map in your quest for fitness. See where you've been, locate how far you've traveled, and determine where you want to go. Take advantage of this valuable membership benefit. A fitness and wellness journey does not always travel a straight path. With caring advice from a medical perspective, you can carve a direction that's best for your body.
Medical supplies image credit: http://www.flickr.com/photos/adrianclarkmbbs/</a> / <a rel="license" href="http://creativecommons.org/licenses/by-nd/2.0/">CC BY-ND 2.0</a></div>
Related Articles: