"Elizabeth showed increasing interest and potential in the water," indicates her mom, Barbara, who is also a Center member. This led to joining the Center's Competitive Stroke Swim class. Elizabeth was already very familiar with the Center's exercise equipment, in particular the treadmill where she trained for cross-country competitions. However, the Aquatics Center was a new experience for her. She also was motivated to join a local swim team where she earned 1 second-place and 3 third-place ribbons, but no first place. Not yet.
Elizabeth's first swim season proved to be just a warm-up. Two Competitive Stroke Swim sessions later, she approached her second year of team swimming with the determination to succeed and the skill to make it happen. At 12 years old, this water warrior swam in both the 9-to-12 and the 13-to-18 age groups, earning a total of 17 first-place ribbons and 4 second-place ribbons. From 0 to 17 ribbons, after only two sessions of classes and a lot of practice! She performed all four of the strokes (freestyle, butterfly, breaststroke, and backstroke) and the individual medley with confidence. Her relay team broke records, with much credit to Elizabeth's talent. In the New Jersey Swimming Conference Championships, she and her 9-to-12-year-old relay teammates came in first place, and broke the pool record in speed.
"Elizabeth's success demonstrates how much the swim class advanced her," shares Don, Elizabeth's dad and Center member as well. The Kaczmarek family agrees that Elizabeth's experience with the Center's Aquatic Program has made a tremendous impact. "Swim Coach Janet is wonderful. We give her enormous credit for encouraging Elizabeth, as well as teaching her new skills and correcting any that were previously a struggle," says Barbara.
"These kids spend a lot of time in the water. They become like a second family to each other," says Coach Janet. She indicates that these young swimmers have built-in friends, "swim buddies" with whom they share a common interest as well as similar challenges faced by today's kids.
Just how far had Elizabeth progressed since she began with the Center's Aquatic Program? Elizabeth giggles when recalling how she used to hold her nose a lot during water activities. "If I wanted to be serious about this sport, I knew I had to let go of my nose," she confides. One day early in her swim classes, she accomplished this milestone that propelled her forward. She was able to back-flip and push-off when she reached the walls, something that can't be done while pinching one's nose.
Elizabeth is an inspiration. Her message to kids—and adults—is to keep practicing. "If you work at something, you can achieve it," says this preteen swim star. "Elizabeth is at an age where these accomplishments are a great boost to self-esteem. Doing so well and hearing an audience of about 100 cheering you is great for anyone's confidence," Barbara notes.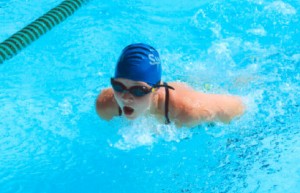 Elizabeth's goal is to become a member of her high school swim team next year. She's already taking action to make that happen. She joined a winter swim team to keep her competitive edge and she visits the Center as much as her busy schedule allows. Her typical routine includes a warm-up on the elliptical, a 1.5-mile run on the treadmill, and then a .5-hour swim. Sounds like the making of a future triathlete!
Don and Barbara share this time with their daughter, doing their own land and water routine alongside Elizabeth. Their skills aren't quite as impressive, particularly in the water where they feel challenged by the strength and proficiency required to swim extensively and do drills. "She even gave me a head start," laughs Barbara. "Swimming continuous laps is harder than it looks. I struggled at first," Don reveals, whose athletic nature allowed him to progress to a half-hour swimming workout after only one month. (At the start, he could accomplish only 5- to10-minute increments.)
Little brother Zachary also has participated in Competitive Stroke Swim sessions at the Center. This fourth grader looks up to his big sis' as an athletic role model. Although too young to be a member, he enjoys Family Swim time at the Center where he absorbs tips by observing his older sister. Lee, Center member and grandfather to Elizabeth and Zachary, is their biggest fan and cheerleader. At age 80, Lee visits the Center three times a week. This keeps him in top shape so he can keep pace with his active family and their events.
Elizabeth recalls exciting moments from her last race when she was swimming against a 17-year-old. "For the final strokes, I didn't come up for breath. The flags were my marker. From these flags, it is 15 feet to the wall. I filled my lungs with air and sprinted past my competitor to win the race."
This champion swimmer is motivated by any who try to beat her, whether on land or water. She enjoys breaking her own records in "self-competitive" sports like running and swimming where teamwork is based on personal records. It takes practice to win all those ribbons and earn the Most Valuable Swimmer title. Despite her busy school and sports schedule, this Honor Roll student tries to train at the Center as often as possible. If Elizabeth can fit it in, can't we all?
Related Articles: