by Michelle Sutton-Kerchner
Forget the convertible and crazy hair change. Today's older generation is having a youthful fling with fitness. Follow the lead into this hot trend. Here's how to stay fit and healthy. "Youth" doesn't have to be wasted on the young …
Last week, F&W News shared impressive statistics on baby boomers pioneering into new territory to accomplish a healthy, energetic lifestyle. Through proactive measures, older adults help achieve positive well-being into their senior years. Everyone's compass takes them in different directions along the path to wellness, but the destination remains consistent: to reach happily-ever-after.
Evolving Exercise as You Age
The Center's mission is to help members accomplish their healthiest life at any age. Unlike a vanity gym, you'll find a mix of exercisers striving for myriad goals. Sure, we all want to look our best. Ultimately though, we want to live our best.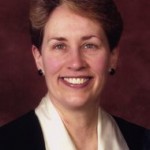 Member Janice Roddenbery has always enjoyed a life of fitness. In her youth, she participated in aerobics and jazzercise, and loved swimming. Janice combined her past exercises into an effective workout for this phase of her life and beyond. At 62 years old, she benefits from aquatic exercise, her favorite being Aquatic Pilates class.
No longer comfortable with the pounding, high-impact aerobic routines from her past, Janice turned to the Center's pool. "I swam as a girl, so my fitness experience has come full circle," indicates Janice who performs most workouts in the water. As for the Pilates aspect, admiration of older friends who practiced Pilates led her to do the same. "These friends have such great posture and grace. They love Pilates so much, I had to try it."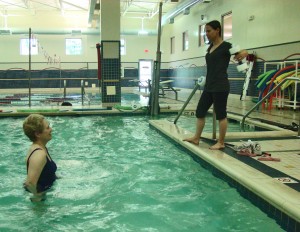 Janice speaks of the many challenges people faces as they age. She finds several are addressed through regular Pilates workouts. Pilates helps strengthen the body's core, increases flexibility, improves balance, and maintains good posture. These issues become essential as we grow older, when balance and coordination help the body remain strong and mobile. Pilates low-intensity movements eliminate jarring. "You can strengthen bones and muscles in a non-percussive way. Plus, it's fun!" Janice assures.
As research predicts longer life spans, boomers like Janice anticipate living well into old age. "Pilates is the tool to get us there. This fitness method can be modified to meet our changing needs," she says. Janice believes Pilates can contribute to our longevity. A fundraising consultant who spends many hours in front of a computer, she doesn't want to arrive in her 90s hunched over and stiff. "I plan to live to be quite old. I want to be excellent for a long time. Exercise is going to make that possible."
Janice credits her mother for an interest in staying fit as she ages.Born in 1906, her mother was a huge advocate in the 1970s when fitness for seniors became a popular concept. Thankfully, Janice has always enjoyed water workouts. Possessing what she considers two trick knees, aquatics exercise has allowed her to stay active, regardless. Today, you'll find her splashing out Pilates moves alongside other members, who range in age from 30 to 80 years. Grow with it, Janice!
Going Forth in Confidence
Member Pegi Johnson shares a similar theory about Pilates. "The reformer is an amazing apparatus. Looking at it, I never imagined I could've done anything on it," she admits. Through watching others utilize the reformer, Pegi saw the strength one can achieve. Now, she incorporates a weekly Pilates reformer session into her fitness routine.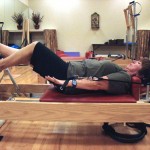 "I continually surprise myself," she attests. "I don't limit myself and, therefore, I don't know what my limits are. I didn't break yet," she trails off in a chuckle. This confident attitude is precisely what allows Pegi to experiment and discover the benefits of tools like the reformer. It's a positive cycle. Exercise leads to confidence, which leads to better exercise.
It isn't often that older adults feel the adventurous urge to try new physical activities. With age-related worries, a new exercise method or different equipment can be intimidating. The fear of injury is naturally more predominant than with the younger exerciser whose body is in different condition (for example, bones are denser). A regular exerciser—at any age—possesses stronger self-confidence, which more easily allows attempts at the unknown.
Boxing is next on Pegi's workout agenda. Training sessions that incorporated some boxing jab-jab-cross moves sparked her interest. Her husband, who is also a member, takes boxing classes. It's only a matter of time before Pegi steps into the ring, or Group Fitness studio as this case may be.
It's unlikely that Pegi joins her husband at the Center. As typical on-the-go boomers, their schedules don't allow it. He exercises during the daytime while Pegi is at work, and she goes to the Center at night. On the occasional Friday night, these boomers mange to work out together, followed by a relaxing soak in the Center's hot tub.
Healthy Competition
Although Pegi has been a Center member for the past six years, it was only two years ago that she got serious about her health. "I realized I was wasting my time if I didn't get busy [with fitness]." She used the Biggest Center Loser Contest as motivation. "The Contest forced me out of my comfort zone. You're required to try new exercises, classes, and equipment. You work your body in different ways," informs Pegi.
Pegi won third place the first time she participated in the Contest. She didn't place in the second year. However, she expanded her fitness repertoire to include dynamic cardio workouts, Group Power classes, and aquatic offerings. She became even further committed to her quest for health, with even more effective ways to accomplish it. "The entire contest was a very positive experience. I look forward to the next one," she says.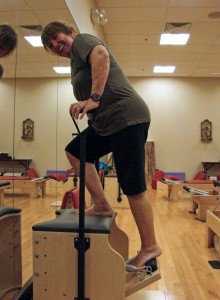 "I had an epiphany. At this point in life, I need to be strong and healthy for myself, no one else.  I have always preached good habits to my children (all three of whom are now grown), but I finally had to 'walk the talk.'" Pegi claims the Biggest Center Loser Contest as pivotal.  She used her winnings to purchase private Pilates reformer sessions.  "Joseph Pilates promised after thirty sessions 'one becomes a whole new person.' I'm almost halfway through my thirty sessions. I am anxious to become this new person."
Pegi mentions with pride the recent birth of their first grandchild. Becoming grandparents is a whole new experience, with new reasons to thrive. "At age 64, we're settling into our new roles. We're so fortunate at how things are working out in our lives. We're very happy."
Image Credit:
Boomers on bikes (introductory photo): www.flickr.com/photos/hygienematters/4275577339/
Related Articles: