by Michelle Sutton-Kerchner
Catching up on the news or latest celebrity gossip may be a convenient way to cycle through a sweat session. But, what would happen if you were truly present at your workout? You may find soothing perks that counteract all that brain overload — and improved results  …
Even adults can become overstimulated. Technology prohibits us from being truly quiet and alone, sometimes even in the bathroom. We're bombarded by advertisements, background music, and electronic banners tickering out trending news.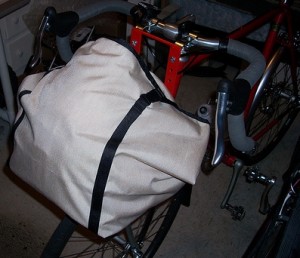 Like an on-foot office or overburdened shopper, we bring this physical clutter with us in the form of gadgets and print materials. We slog around bags, weighing down our physical being and, often not realizing, our mental state as well. Yet, as a person journeying to obtain your healthiest life, you strive for perfection.
You're sure to use the latest exercise equipment and tools, take the hottest fitness classes, and wear the most appropriate shoes and gear. Yet, if your brain isn't traveling the exercises with you, even the best Nikes can only take you so far. Turn off the distractions and observe where you truly can go.
Visualize
Despite typical associations, one doesn't need to sit properly on a bare floor, quietly surrounded by candles and burning incense, to practice the art of visualization. Meditation can, and should be, done throughout your hectic day. Bring this technique to the treadmill with you and improve the health of body and mind. Apparently, we all love to multitask. Why not multitask for a double dose of health!
As we embark on a new year, we are fresh with excitement about new goals– fitness and otherwise. Think like a winner to become one. The professional athletes many admire have learned what our ancestors long knew: It has to be seen to be done. As a result of its continuous success, visualization also has roots in modern science.
Take to the Exercise Floor with an image of your ideal body. Forget envisioning a super model. It's far better to see yourself as you want to be. Why strive for an airbrushed manifestation? Goals are achieved when they are realistic. Then, each step, each rep, each drop of sweat serves the purpose of creating that reality. You are aware of it and charged by it.
How-To
When you visualize, include specifics. Clear thoughts. Derail the high speed-lines that rush through your head from one thought to the next, sometimes overlapping, often overwhelming. Then, paint the picture. If a beach body is your goal, focus on the scene. Include the smallest details. The color of your beach towel, the company surrounding you, the sound of the ocean, the smell of the surf. The more vivid the image, the more enjoyable and effective the visualization.
Now, bring your emotions to the scene. Truly experience how you'd expect to feel in that scenario. You are confident, free, at peace. Smile. Yes, your glutes are burning as you pump the climber with your legs. But, you are content. You've shed the baggy swim shorts and are walking the ocean's edge radiating with your new body, fully alive with your new self. This emotional aspect becomes engrained in your brain's memory cells, helping one exercise session lead to a long-term commitment.
As with any behavioral change, this may not come naturally. Do not expect to abandon magazines, cell phones, and the TV habit on your next trip to the Center. In fact, there's nothing wrong with exercising to motivating music or while catching the day's headlines on occasion. These distractions can help accomplish another mile or rep. Yet, being present, focusing on each muscle as it works, can be an effective challenge that obtains a multitude of results.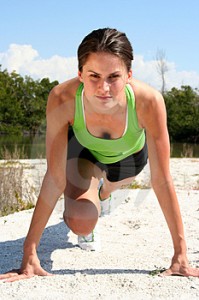 As you exercise, focus on exhausting your body in a positive way, not your mind. Set your mind free. In amazement, live each stretching, burning, and strengthening movement. Recognize all your body can perform and relish it. It feels great; you are working toward that healthier self. You are an incredible breathing being on your way to the next step. Foremost, in order to transform, be thankful for wherever you are at the moment. Your fitness, like any other endeavor, is a process. Envision a lean, healthy, happy body.
Some theories focus on creating your world. You attract that which you envision. When fear and doubt enter the mind, turn to your breathing and heart beating. Refocus on the present moment. It is often difficult to accomplish this necessary task. Perhaps assure yourself time to ponder anxieties later, after your workout. At that point, you may discover your anxieties have left you. The time you reserved for worry can be spent on something enjoyable. Added bonus.
Try It On
Other resolutions may require a slow approach. You can't improve your backstroke until you learn basic swimming skills. Better people skills need to be tested in stressful social situations. This may not occur again until the next holiday and a heaping serving of self-help books are digested.
Mindful exercising can be attempted immediately, with instant results.
When we notice our movement and adapt exercises accordingly, we listen to our body and better respond. Consulting with a personal trainer or Group Fitness instructor can have an even greater outcome. Know yourself better and create a more customized approach to fitness through these experiences. Be your own coach and let others assist you.

According to a study from the School of Sport and Exercise Science at Wintec, Waikato Institute of Technology, New Zealand, self-psyching can increase muscle power by eight percent during strength training. How can you self-psych if you aren't present? Where's the pep talk in the stock market's latest trends, your colleague's meeting minutes, or all the other information with which we busy our brain while working our body?
Brad Hatfield, PhD, professor of kinesiology at the University of Maryland in College Park, indicates positive mental energy can help activate additional motor units, stimulating muscle fibers enough to pump out more reps. Affirm and focus! Register what you are doing and improve it. If your thoughts wander again, return to the sound of your heart beating in your ears from a pulsating workout.
Rather than churn out a workout mindlessly, make it mindful. Be aware of your journey, where you have traveled and where you are going.
Be conscious of where you are now.
Notice it and make it count. Performance will be enhanced, both on the Exercise Floor and beyond the Center's walls. Use your workout as an escape from the world, not yourself.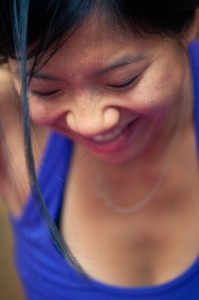 Tips for Owning Your Workout:
Inhale and exhale in rhythm with your motions. A personal trainer or fitness instructor can advise on the most effective breathing method while performing reps and other exercises. A simple function like how you breath makes a difference in your results.
Concentrate on helping your body grow, heal, and strengthen. Learn the specifics behind the mechanics of your routine. Understand which areas of the body you are working, down to the cellular level, to add dimension to your vision. Be aware of what you are accomplishing with each move.
Become connected with yourself and smile. Though it sounds silly, and may feel unusual to give attention to the ordinary, self-discovery provides an inner source of positive energy. It radiates in all you do (and don't do). 
Today is the day. Take back your workout, one breath at a time.
Sources
"Recharge Your Exercise Motivation," by Carey Rossi at www.fitnessmagazine.com.
Image Credits
Japanese cherry blossom (introductory photo): http://www.flickr.com/photos/marc-lagneau/4486730166/
Overstuffed bike bag: http://www.flickr.com/photos/coweater/2948765288/
Beach workout: © Dana Bartekoske Heinemann at www.dreamstime.com.
Man on treadmill: www.monkeybusinessimages at www.dreamstime.com.
Smiling exerciser: http://www.flickr.com/photos/lululemonathletica/4883554791/
Related Articles: