by Michelle Sutton-Kerchner
As marathon (and swimsuit) season approaches, many are burning up the Fitness Floor in a race to reach goals. Remember, too much of a good thing can include exercise …
Those who struggle to maintain a fitness routine may find the concept of overtraining to be laughable. But, it's not a joke. Whether fitness is an enthusiastic hobby or an obsession, some exercisers just can't get enough.
This time of year, people are especially vulnerable to overtraining as spring competitive events and sports loom large. You may have registered for your first fun run or a challenging triathlon. Perhaps last year's "slimsuit" is stopping your circulation. Regardless of the reason, beware of overtraining. You'll be healthier, have more stamina, and maybe even lose weight a little easier.
Do be mindful of how your workout is affecting you. If you start to find your usual reps, duration, and intensity is a struggle to complete, evaluate the cause. A sudden inability to complete workouts, a decrease in performance, and atypical muscle soreness can be signs of excess. You also may find your workout does not rejuvenate your energy level but rather depletes it. Other symptoms of overtraining include: insomnia, elevated resting pulse, irritability, lack of appetite, and a vulnerable immune system.
Don't work the same muscle groups over consecutive days. Effective exercise puts a strain on muscles and causes micro tears. During rest, these tears are repaired and muscles grow stronger. Without proper rest, the body does not have time to heal, which can lead to injury and setbacks instead of muscle growth.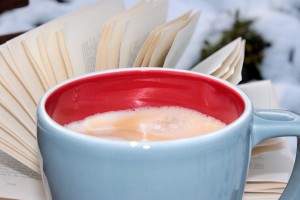 Do plan rest days. The most rigorous, pre-event training programs build in days for rest. And, if you are already feeling maxed out, listen to your body. If you are committed enough to be a candidate for overtraining, you can surely afford rest time without worry of atrophy. You'll return with renewed vigor. Don't forget to get a proper night's sleep. During the deepest sleep phase, our bodies make the most progress at recovering from physical stresses.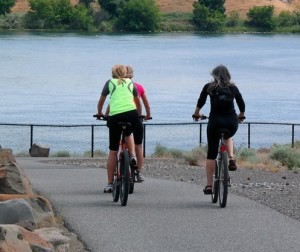 Don't worry if you can't resist. For many, a workout is a physical and mental stress release—and downright enjoyable, as it should be. Don't deprive yourself of its daily benefits, even when you are rundown from one too many laps or reps. Instead, vary the intensity and activity. Use recovery workouts to cross-train. Working different muscle groups at a variety of energy levels avoids repetitive stress injuries and prevents mental burnout on the fitness experience as a whole. With mind and body engaged in myriad ways, you can still ride that workout euphoria.
Don't under-eat. When training, especially for a specific event, nutrition complements your fitness program. This is not necessarily the time to deprive your body of calories. Rather, make those calories count. Consume foods packed with nutrients to help build muscle and stamina. The right combination of protein, carbs, and healthy fats delivers the energy your body needs to properly recover from a workout.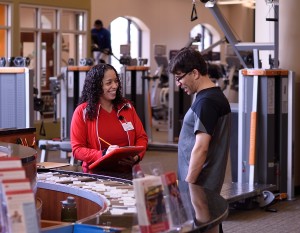 Do check in with a personal trainer. As a Center member, you have the luxury of access to trainers and instructors at every workout. Talk with them about your fitness goals. They can help you achieve effective, efficient workouts every time. Personal trainers also can customize a workout for you to better tackle that mud run or new swimsuit. Share any concerns you have. Let them determine if you are overtraining, or just trying to get away easy!
Sources
"The Cure for Overtraining," by Paige Waehner at about.com.
Image Credits
Mug & book: pixabay.com/en/coffee-break-cup-coffee-cup-1246961/
Biking: pixabay.com/en/bikers-bike-bike-riding-sport-929419/
Related Articles: