Better enjoy your advanced years by maintaining a regular fitness routine, particularly during middle age. The likelihood of serious illnesses can be lessened, including heart and lung disease, cancer, diabetes, and obesity. Grandma can enjoy that run-and-hug without fracturing a shoulder by decreasing risks for falls or fractures. We recognize all that. However, recent research has unveiled new findings.
Exercise has been acknowledged as a way to slow age progression and improve overall health at any life-stage. Previous articles in Center publications mentioned members' firsthand experience at defying age. Although his chronological age is 62 years, member Harry Kuhn's nurse assessment showed a physical age equivalent to that of a 52-year-old. Member Bob DiSogra went from having a body typical of a 67-year-old (at age 57) to that of a 54-year-old (at age 59). A 13-year improvement after only 13 months of exercise. These impressive stories are just a couple examples of exercise's impact on our ability to age well.
Revel in Your Independence
Current research in the Archives of Internal Medicine reveals additional discoveries on how exercising earlier in life is like a 401K plan for your body's future. These studies further reveal the degree to which physical activity influences our ability to function later in life. In addition to extended longevity, physical disability is minimized along with the dependence on others it often necessitates. This is considered one of the most important health outcomes for the elderly, who loathe the idea of being considered a "burden" and surrendering their independence.
"Among women age 70 or older, those who regularly participated in physical activity during middle age appeared in better overall health," according to a study by Qi Sun, M.D., Sc.D., of the Harvard School of Public Health, Brigham, and Women's Hospital and Harvard Medical School, Boston, and colleagues who analyzed data from 13,535 participants in the Nurses' Health Study. These study participants had a reduced risk of chronic diseases, cardiac issues, and overall physical, cognitive, and mental impairments. The outcome of the study: Exercise not only helps you live a longer life, but also a fuller one. Consider it having your cake, and eating it too (as long as it's fat-free, of course).
Reduce those "Senior Moments"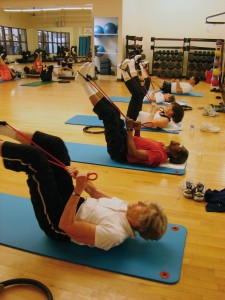 In a study group of women age 65 to 75, resistance training (at least once a week) proved helpful in improving attention span and conflict resolution skills. These participants bulked up their muscles along with their brain power. Cognitive decline is a common, and often feared, effect of aging. This study implies resistance training as a preventative solution, one that's not often considered by seniors. Consult with a personal trainer to obtain guidelines for incorporating weights into your exercise program. Think of it as an additional "savings plan" for your future. If you start pumping iron now, you'll feel quite smug when bench-pressing more than those middle-aged exercise counterparts before your afternoon round of bingo.
Moderate or high physical activity is thought to decrease the risk of developing mental impairment. Participants of a two-year study by Thorleif Etgen, M.D., of Technische Universität München, Munich, and Klinikum Traunstein, Germany, and colleagues monitored 3, 903 participants age 55 and older. The incidence of cognitive impairment was directly related to the amount of activity performed. In other words, more exercise resulted in better cognitive function with less likelihood of decline.
Avoid Falling for Things
Reach, lift, kick, and climb without constant fear of losing balance and taking a tumble. High-intensity exercise, such as found in certain Group Fitness classes, appears to improve bone density and reduce the risk of falls. Participants in a high-intensity exercise group, as well as a control group that focused on a wellness program for well-being, realized a decrease in the 10-year risk of cardiovascular disease. However, fractures as a result of falling were half as common in the group that exercised.
Go Forth in Pursuit of Fitness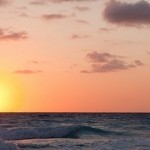 Whether your retirement plans include walking along the surf or gardening in your own backyard paradise, take proactive steps so you can execute them with zest. Live your golden years with passion, energy, and optimum health. Youth doesn't have to be wasted on the young. Get moving now.
Image Credits
Piggy bank: www.flickr.com/photos/alancleaver
Sunrise: www.flickr.com/photos/pdbreen
Source
"Exercise Now, Reap Benefits Later" at www.thirdage.com
Related Articles: