by Michelle Sutton-Kerchner
The countdown has begun. Accomplish your 2013 goals, or risk waiting until next year …
Maybe you cannot manage a marathon or drop 20 pounds at this late point in the year. Some New Year goals made in January will have to be postponed. Not canceled. You can take steps to further propel you in that direction. By next year this time, you'll have run, lost, gained, and accomplished– just on an adjusted timescale.
Although you may find this a difficult time of year to add a new task to your to-do list, start anyway. It may mean a little more schedule juggling, but it's better than the alternative: starting the new year with leftover, unmet goals. Whether you have neglected your workout completely, or just fell short of your ambitions, do one thing today to get you back on track.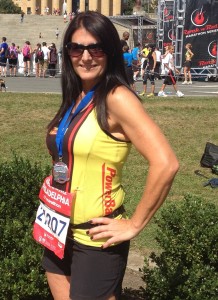 As the saying goes, "If it weren't for the last minute, nothing would get done." There is a reason for its popularity. Many function best under the pressure of a looming deadline. January 1 is yours. Achieving a healthier lifestyle in 2013 starts today. Training for that competitive event starts now. Accomplishing a healthy weight begins … okay, so that can wait until after the neighborhood cookie exchange.
The idea is to start. Take steps now, or be prepared with a hearty pep talk when setting 2014's new year resolutions. You probably do not need to reflect on the past months. You know where you "fell short." Perhaps your cardio workouts haven't reached explosive levels. You may not be lifting the weight you hoped. Reassess if those goals were reasonable. Perhaps you aimed too high. Be honest here. Chat with a personal trainer for input. We tend not to truly realize our potential.
If your goals were reasonable, determine what prevented success. This helps avoid similar setbacks in the future. A morning carpool might have developed, which interfered with your morning workouts. A sprained ankle may have impacted your training program. Life sometimes gets in the way of best intentions. Give yourself credit. Decide where you fell short, and adjust to avoid future setbacks. And, if your setback came in the form of one too many weekly TV shows, all of which happened to air during your favorite Group Fitness class, admit it. Try harder (and get a DVR).
Go-to Exercises
It is now the last minute. Like most, you may feel overwhelmed at where to begin. Frantically racing from the Exercise Floor, to the pool, to the Pilates studio, and back again, you try to squeeze in whatever possible. The goal-achievement process is blown with a gust of winter wind. Consider starting with a yoga class, actually. There, you can clear your mind from the jingling of bells, whistling of trains, and dim roar of crowds. Deep, cleansing breath. Now, prioritize and take single steps.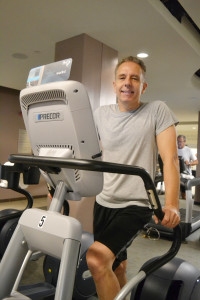 Invoke your personal go-to exercises, a small collection of reps, classes, or stretches that can help propel you to goals. Establish them, if you have not already. If weight loss is your motive, execute your cardio faves (perhaps incorporating weights). Kick off the new year three pounds lighter. It may not be the 20 you hoped to shed this year, but it's a great start to a new beginning.
Motivation can be everything when it comes to momentum, especially in January and February. If you can make progress now, under the healthy pressure of year's end, your chances of new-year commitment increase tremendously. Seize seasonal inspiration– a winter vacation to the tropics (destination bathing-suit land), a holiday outfit (little black dress; athletic-fit shirt), or the desire to impress family and friends with a healthier glow.
Many fundraising groups already posted dates for next year's runs, cycles, walkathons, and events. If a 5K or marathon was on your 2013 agenda, carry it over. Pick an event now and start training in the New Year. Schedule your personal trainer evaluation and nurse assessment. Know your health and fitness baseline and determine next steps. Planning ahead, even signing up now, solidifies your commitment.
Share holiday gift ideas. Your parents have no idea what to buy you. Make it easier for them and better for you. Request a gift certificate for FitBucks, personal training sessions, or Pilates packages to use at the Center. Schedule your appointments before the new year begins for an enthusiastic way to kick off your 2014 fitness goals. Chose a personal trainer in advance via the Center's website. Speak with him/her about your goals (both those you missed and those you hope to achieve). Discuss your fitness program now to make even the first session effective. The more information you share with your trainer, the better the results. (This includes letting your training know about that late-night snacking habit.)
Aside from the commitment factor, a trainer can also tame the exerciser trying to compensate for lost time. You may have started training in December instead of January as planned. But, you cannot fit 12 months of fitness into two weeks. A trainer can help you pace yourself to avoid injury, even during an overzealous start-up.
Keep a Healthy Mindset
Studies have found on average people tend to gain about two pounds a year, usually between Thanksgiving and January. Compacted over years, weight creep like this is unhealthy and often difficult to stop because of its sly, inconspicuous nature. This portrays holiday weight gain in a new light, with connection to the obesity epidemic.
Holiday weight gain can happen to even the most diligent exerciser. Often, we overestimate our workout's caloric burn factor. Here is an equation to keep in mind when at the buffet table:
A 30-minute run of three miles burns about 300 calories. One piece of plain pumpkin pie (no whipped cream, cream cheese filling, or nuts and syrups) is about 300 calories. Be realistic about how much your sweat session actually affords you at the dinner table. Moderation is essential. Enjoy treats of the season, but remember tomorrow.
Consume adequate amounts of water. Hydration is often forgotten during the rush of the season. We tend to associate dehydration with hot, sunny days. Cold, dry ones affect our fluid levels, too, as does hurrying through stores in coat, scarf, and hat. Combined with the increased consumption of alcohol often offered in holiday settings, you risk dehydration, headaches, decreased energy, and the inability to concentrate. Thirst can also get confused with hunger, and we all know how that gets satisfied.
Drink plenty of water and decaffeinated (unsweetened) tea. Increase intake of vegetables and fruit, which also hydrates the body. Fill up on these and feel fuller and more satisfied. Less room is left for the unhealthy stuff. Don't forget protein sources. Small amounts throughout your day keep away hunger. Indulgences can be saved for special occasions, and not consumed ravenously in an effort to quiet a growling stomach.
Go Forth
Two weeks remain. Make them count. Small steps are better than accepting any defeats of the past year. Do not give up. As Chinese philosopher Lao-tzu attests, "The journey of a thousand miles begins with a single step." It is okay if you stumbled until now. Take that step and be closer to an amazing year.
Sources
European Journal of Clinical Nutrition
Images
Winter pathway: www.flickr.com/photos/jukolanpoika/4274752738/ (by Simo Tolvanen)
Related Articles: