by Michelle Sutton-Kerchner
Looking for laughter, fun, and support with your workout? Join a Group Fitness class …
As we kick off the holidays, thoughts turn to food, relaxing by the hearth with family, and more food. You need your workout more than ever. You also demand more of this workout — to counter excess calories and stress (both possibly from too much "relaxing" with family), and in less time than usual.
Get It Done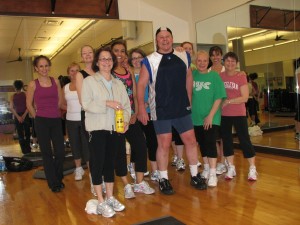 Group Fitness classes provide accountability and structure, which is especially helpful during the holidays. Under the direction of a fitness professional, you are assured a balanced workout in a set amount of time. You can do the same class a few times a week or vary it.
It also is easier to adhere to your exercise commitment. Class members and the instructor often become friends. These fitness buddies look forward to seeing you at class. They can enhance your workout experience with support, motivation, and a little healthy competition.
Go Farther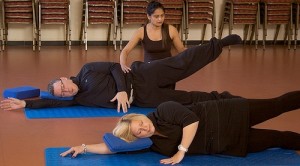 A Group Fitness instructor can help advance your fitness level with directions on when and how to intensify the routine. Of course, this can be done at your own pace. The instructor also can help those with special needs adjust the workout, even if your only need is to overcome couch-potato syndrome. Modifications can be made to accommodate a tricky shoulder or tight back muscles.
Introduce yourself to class instructors. Share goals you hope to attain from the class with them. Keep an open dialogue. This helps you remain accountable, and allows you a more personalized approach to the class. An instructor may suggest ways to engage different muscle groups or increase endurance so you leave the class closer to accomplishing your unique goals.
Avoid Plateaus
The Center offers an extensive Group Fitness Program. From gentle yoga to high-intensity fusion classes, you and your muscles never grow bored. Try a variety of classes, including aquatic group workouts done in the pool. When you develop favorites and can't resist making them "your usual," even they evolve. Group Fitness launches new versions of old favorites four times a year.
The Program also continuously introduces the hottest new classes, including a Les Mills™ GRIT class this fall. This 30-minute class includes high-intensity interval training focused on strengthening and cardio fitness. It incorporates plyometrics, which uses jumps and hops to work muscles into shape.
Check the Group Fitness bulletin board and the Center's website for a complete list of classes. Can't decide? Try a sampling or check with the Group Fitness manager for suggestions based on your preferences and needs. There are plenty of options to keep your workout style effectively inconsistent.
Other Options
For support and camaraderie in a smaller setting, consider Small Group Training. Although not part of the Group Fitness Program, the Center offers these small group workouts in a variety of methods, from boot camp to kettlebells. These sessions can enhance your current workout, whether in the studio, pool, or on the Exercise Floor. You can build confidence and perfect form, which allows you to be more comfortable when advancing on your own or in a class.
Beyond Your Workout
Exercising with a group strengthens your body along with your social connections. Your reserved side may be surprised at the person you become in a fitness class. Exercise is a powerful confidence booster. The shared energy and enthusiasm become part of the healthy experience. This zest for life and movement travels with you throughout your everyday routine.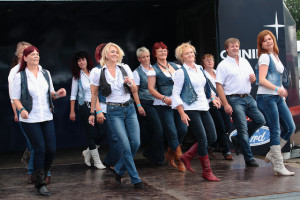 Perhaps working out among a group will instill you with the confidence needed to join a community sports team or attempt a 5K. Look for ways to expand the benefits. Consider inviting your pals from class to regular dance outings at local clubs, skiing at a nearby lodge, or skating. Try a barre class and attend a ballet performance together. Share your Zumba® passion and head to Brazil. (Okay, a bit extreme. Go out for tropical smoothies instead.)
Have a little fun and friendship with your workout. With Group Fitness, multitasking these priorities is easy.
Image Credits
Pilates class: flickr.com/photos/sazztastical/4137020438/
Country line dancing: flickr.com/photos/89810557@N08/9324104493/
Related Articles: