by Michelle Sutton-Kerchner
May is National Bike Month. Be ready to ride …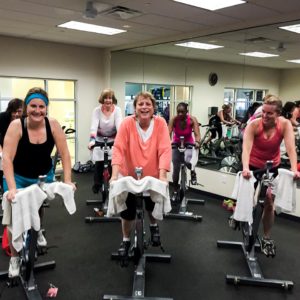 Cycling is an excellent way to improve your overall health. Considered low-impact, this longtime leisure activity increases stamina, strength, and cardio capacity. It provides a full-body workout without the strain on joints found in similarly beneficial exercise methods.
Need additional reasons to go for a ride? How about these:
A casual bike ride at less than 10mph burns about 105 more calories than a casual walk at 2mph.

Make it a scenic ride or a high-intensity workout depending on speed and terrain. (Your ride. You decide.)

An excellent way to add physical activity to complement your formal workout. You even can cycle to the Center!

Weather is never a deterrent. Enjoy a variety of rides indoors through a Cycle class or stationary bike.

It's a less stressful way to commute. According to studies, these eco-friendly commuters enjoy travel time more, experience less traffic, and save gas money.

Steady cycling burns about 300 calories per hour while sculpting muscle to further that caloric burn.

Buns of steel!
Powerful Pedaling for a Cause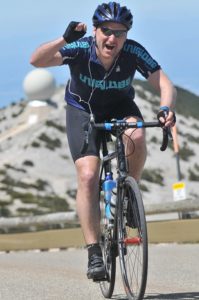 Although biking is not a seasonal sport, we are in prime time for riders. Cycling fulfills our need to be among the warmth and sunshine as elements of our healthy lifestyle. It is also the time of year for fitness events that include cycling. Just like fun runs and marathons, competitive cycling events are being launched everywhere. They are great motivation to train and advance your ride within a set timeframe.
Many cycling events offer a variety of durations. As a newbie, you won't necessarily be required to pedal from city to shore or up steep hills. Find an event that works for your skill level. Fundraising rides help support research for illnesses like cancer, multiple sclerosis, and diabetes. Consider joining one whose cause is meaningful to you. You'll be extra inspired.
Go Far without Leaving Your Seat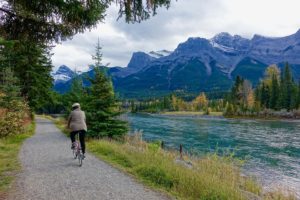 Biking allows you to cover more ground than walking or running. And, while on a bike, you tend to observe differently than during car travel. Take in the world around you from a new perspective.
Cycling classes are sometimes centered around a theme. At the Center, each instructor provides a unique experience through use of music, guided imagery, and personality. Your mileage can be akin to the Tour de France or a trip along the coast. Customize your bike settings and seat. Settle in and pedal!
Member Corey Parella Shares Her Experience
In winter 2015, Corey attended her first Cycle class at the Center. Prior to this, she never rode a bike or exercised. It was all new. She admits, "I couldn't cycle the entire time without breaks. Even without resistance on the bike, I was very challenged." Corey persevered and eventually began to love cycling.
"Now, Cycle class is cannot-miss 'me time' every week. Cycling has made me feel strong. It has helped tremendously in reaching my fitness goals." Corey even manages an occasional 7:00am Cycle class on Sundays. That shows the love! She takes at least two Cycle classes each week.
She insists on recognizing the role her Cycle instructors have played in her cycling journey. Each unique in approach, both are always welcoming and positive. "Mark has been kind and supportive from the beginning. He encourages his students to work at their own pace, which increases over time. He inspires the class to improve and be their best." Instructor Don, Corey notes, also delivers a great workout from the bike, along with the best music.
Avoiding a Rough Ride
As for the bike seat, often a source of (sore) issues for newbies, Corey encourages you to give it time. "After about two classes, you already know how to adjust the seat to your most comfortable position. You also learn how to ride more gracefully to tackle inclines and other advanced skills."
Have a Seat & Get Fit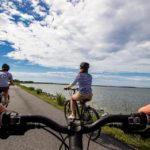 Friendly camaraderie and a supportive instructor make Cycle class a great escape without even leaving the Center. Let your mind travel, or simply focus on the rhythm of the pedals, as you power through a ride.
Sources
http://www.mensfitness.com/weight-loss/burn-fat-fast/10-reasons-to-get-on-a-bike
Image Credits
Race: https://pixabay.com/en/cyclist-2194027
Scenic ride: pixabay.com/en/rider-rural-river-adventure-1827833
Water's edge cycling: pixabay.com/en/bicycle-riders-riding-cycling-2071825
Related Articles: