Trying to find the perfect gift is easy when you focus on a health theme. Everyone wants to be healthier! Here are some gift ideas to get them started, or keep them going, in their quest for fitness, wellness, and that ever-elusive state of balance …
Whether buying for a workout buddy, a mom in need of de-stressing, or a brother in want of a better golf game, wrap up these for some cheer with a purpose. You may not be able to improve their score or lighten their schedule, but a gift for a healthier lifestyle can be the inspiration needed to accomplish it on their own.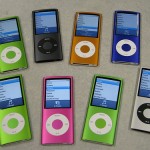 MP3 Player: A portable listening device, such as the famous iPod, is a great motivator to get moving. Available at several price points, these audio gadgets allow the user to create their own selection of music from Internet sites. They can rock to their favorite tunes as they run on the treadmill or cycle.  If they are introducing exercise into their lives, it's hard to resist physical activity with the temptation of upbeat songs. You can go a step further and build a music library of fitness tunes for them to personalize this groovy present.
If they already have an MP3 player, consider a gift card to an online music source, such as iTunes. For $25, they can create a whole new playlist of songs to freshen up their workout routine.
See "Getting MP3 Players to Workout: Exercising with Your Music" (Fitness and Wellness News, March 26, 2010) at www.fitnessandwellnessnews.com/featurestory/getting-mp3-players-to-workout-exercising-with-your-music/.
Workout Towel: Not just any old terry towel will do. For the serious exerciser, give a performance towel that absorbs sweat and helps cool down at the swipe of a brow. Consider the Hydryx Workout Towel with cooling properties and the ability to hold five times its weight in water. It includes a carrying tube, which acts as its own little cooler to keep the towel ready to work. Also, great for the swimmer as a super absorbent hair towel.
Personal Training Sessions: A one-on-one training session can be the perfect motivator for an inconsistent exerciser, someone setback from an injury, or an avid exerciser striving to reach the next level. Customized fitness programs created especially for your gift recipient deliver a unique, personalized gift at every session.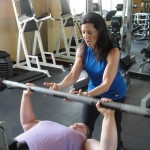 Workout programs focus on personal strengths, consider any weaknesses, and evolve with the client. Those with hectic calendars can schedule the sessions at their convenience. Having a personal training session planned in advance helps assure loved ones make time for themselves and their health.
The Center frequently offers package deals that make excellent holiday gifts. Perhaps gift a few sessions to a loved one. Their efficient progress and newly discovered insight will probably put this present on their perpetual wish list so you're ready for the next gift-giving occasion.
See the Front Desk or contact a Fitness Manager to purchase personal training sessions. You can even deliver your gift with a suggested trainer. View biographies of the Center's personal trainers by clicking on Services on the Web site's Home page, then Personal Training, then Staff. Find the ideal match!
Kettlebells: In an age where much is offered to help us become fitter and healthier, a set of kettlebells is a simple, power-packed tool.  Proper use improves strength, endurance, agility, and balance.  A kettlebell program increases muscular and cardiovascular stamina through dynamic swinging motions. 
Having your own kettlebell set to bring to the Center is akin to taking your bowling ball to the alley. You need the proper spacious environment, with trainers to assure correct form and mirrors so you can monitor it. Once you establish your kettlebell routine, having your own set allows additional practice at home or a quick workout at the office between meetings. (Can't do that with a bowling ball!)
For an informative article about kettlebells, see "Bells Will Be Ringing" (Fitness and Wellness News, December 11, 2009) at www.fitnessandwellnessnews.com/training/bells-will-be-ringing/.
Visit the Home page of the Center's Web site. Under Services, click on Personal Training , then Staff, to meet a trainer who specializes in kettlebells or fitness skills that meet your needs.
Athletic Socks: Not much of a present, it may seem. However, if you've experienced sock sag or soak while busting some cardio moves, you understand why this is a thoughtful gift. Choose a pair with moisture wicking to reduce dampness. Make sure they are snug around the arch for support, yet cushioned at the ball and heel. A good pair of workout socks can take you a long way. These make great token gifts for a group of workout buddies in your fitness class or a favorite training companion. Often, they come in packs of two or three. Split them apart and distribute happy feet.
Share the Gift of Membership: As a member, you're aware of the Center's many and impressive amenities in accomplishing a healthier lifestyle. Welcoming family or a friend with a membership sends the ultimate message, "I care about you." Often, those in our lives need a little push to get started. With a membership, you help them commit to a year of making smart choices for themselves.
This is a generous gift of encouragement that helps improve quality-of-life. You'll be receiving their gratitude all year long. Plus, you can enjoy peace-of-mind knowing your friend or family member is living their healthiest life with an active membership. That's a gift to you, as well.
Visit the Front Desk or the Center's sales staff for information on holiday gift memberships.
Pilates Reformer certificates: Private, semi-private, and group lessons are offered in the Center's Pilates Studio. Consider giving to your besties or family for a fun group fitness experience (which can include you). Pilates helps neuromuscular coordination, flexibility, and balance. (It actually might help the golfer on your list improve his/her game!) It also can help heal and prevent certain injuries related to the spine through systematically strengthening, stabilizing, and stretching. Your gift of Reformer sessions could possibly enable someone a chance to overcome chronic pain.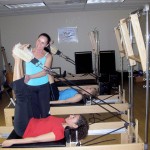 To purchase a Pilates package, please visit the Front Desk.
Basket of Health: Now, that's something to cheer about. Create your own nutrient-packed basket filled with healthy treats. Toss in some homemade granola (or a gourmet blend from your favorite store), green tea bags, whole wheat crackers, soy crisps, dried fruit, almonds, an environmentally friendly water bottle, and perhaps one or two of the previous suggestions. (A gift card peeking out makes the gift extra special.) Complete it with a little dark chocolate and a bottle of red wine. You know, for heart health.
For Yoga Lovers: A beautiful book entitled, Yoga, authored by Linda Sparrowe and illustrated by David Martinez (Rizzoli 2008), demonstrates a variety of poses from beginner to advanced through stunning photography. Also, consider a new yoga mat or a skidless towel for underneath. A mat sling works well, especially for yogi dudes who can use it to stow what women conveniently store in a handbag.
Fitness Attire: Yoga or otherwise, new workout duds are always useful. A new shirt or hoodie may be just what's needed to hit the Center during the dreary parts of winter.  Elastic waists and fabrics with plenty of stretch accommodate those on a weight-loss mission.
Thoughts for Living Mindfully:  Everyone can benefit from inspirational books, calendars, and music. There is sure to be someone on your gift list who should attempt less multitasking and more quiet moments, awareness, and calming breaths. Give a copy of You Are Here by Thich Nhat Hanh (available at www.bn.com).  With its insights and suggestions for living a full life, in this very moment, it may cultivate a gift that lasts a lifetime: inner peace.
Your Fit Self: Put your healthy, toned body to work for those on your list. Chances are slim that your elderly relatives need anything that can be bought in a store. Your time, and perhaps some elbow grease, are a gift they would really appreciate.
Offer to shovel snow, clean house, or tackle a home improvement project. Perhaps you have some new parents on your list. Give them a coupon for a weekly stroller walk. You've got more stamina right now than they probably do, and it'll give them a break from caretaking. Get creative! There are many ways we can put ourselves at the service of others.
Healthy Knowledge: At the holidays, or any time, share a subscription to Fitness & Wellness News, the Center's e-magazine that brings you these weekly informative articles.  It's completely free and full of useful tips for living your healthiest life possible. It's a great tool available at your disposal as a member. Simply go to www.fitnessandwellnessnews.com and follow instructions in the Subscribe box in the right-hand column. You may even wish to share this article via the button at the end of the article. Your friends and family are probably wondering what to buy you for the holidays!
Remember the true meaning of giving a gift. So often, we purchase out of obligation, frantically picking whatever product is within reach. Sometimes, we even need to buy for folks we rarely see or know.  Whatever you choose, give it from the heart. Those on the receiving end will always remember how you, as a person, make them feel, regardless of what is wrapped up. That's priceless.
Sources
"Best Fitness Gifts," by Paige Waehner at www.about.com.
"Yoga Gifts for Men," by Ann Pizer at www.about.com.
"Yoga Gift Guide," by Ann Pizer at www.about.com.
Image Credit
Holiday bows (introduction photo): www.flickr.com/photos/swimparallel/3091289712/
Related Articles: