by Michelle Sutton-Kerchner
A healthy Thanksgiving is often associated with low-fat side dishes, decreased portion sizes, and low-cal desserts. Here's a health-booster that adds flavor to any holiday …
A Holiday Meal Riddle
What has zero calories, the perfect sweetness, and no artificial ingredients?
Gratitude. Make it your main course for the health of every holiday.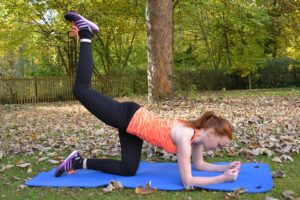 Cynics shake their heads, insist you don't know their family dynamics, and reach for another serving of pie. Avid exercisers argue a pre-meal workout or post-meal walk is the best way to make healthier a holiday based on rich foods. Although these scenarios are valid, research proves those who practice gratitude enjoy better physical health, increased happiness, and a more optimistic outlook. Some even exercise more!
Gratitude in Action
Researcher, professor, and author Dr. Robert Emmons reports those who "view life as a gift" experience stronger relationships and improved resilience and health. He compares gratitude to a muscle that requires exercise to stay fit and functional.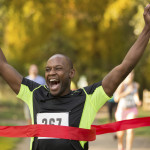 Improved Goal Attainment. Study participants who listed their blessings showed better progress toward achieving health-based goals over a two-month period compared to those who did not. Right next to your fitness goals and nurse evaluation printouts, keep a list of those things for which you are grateful. Include the simple stuff. The outcome (increased likelihood of success with those health-based goals) will result in a longer list. You can further appreciate the benefits of being appreciative!
Increased Optimism. A more grateful approach to life enriches happiness and creates conditions for a positive outlook. And a positive outlook is the only way to approach a holiday that could easily be peppered with cooking mishaps, overextended visits, and the stray rude comment from that one relative we all have. As Henri Matisse wisely stated, "There are always flowers for those who want to see them." Let gratitude help you find the good—in people, experiences, and, if necessary, store-bought pies.
Reduced Anxiety and Depression. By consciously taking inventory of things we appreciate, we fill our thoughts with positivity. If only for a short time, fears, worries, and sadness are set aside as we evaluate the good in life. Done routinely, this approach to our days helps reprogram our brains to seek out the good, however small. In the process, we take power from anxiety and depression, using gratitude as one of our tools in the fight.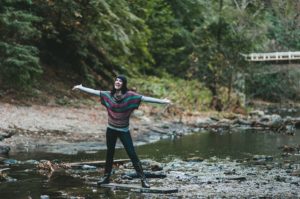 Healthier Lifestyle. The direct health benefits of practicing gratitude have been acknowledged since the time of ancient philosophers. Studies associate this practice with increased alertness, improved energy level, and a better night's rest. These factors are necessary for all aspects of a healthy lifestyle—mental, physical, and emotional. And, they certainly will power up your fitness efforts!
Give Back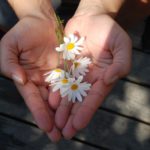 Take gratitude a step further and pay it forward. Donate your time or energy to someone. Give them an opportunity to be grateful through your own thankful act. Don't forget to allow others to reciprocate. Welcome kindness from loved ones and strangers alike. An abundance of shared blessings might not bring world peace. However, it can improve the quality-of-life for you and those with whom you come in contact.
This holiday season, less can be more. Don't try to satisfy yourself with extra servings, excess sugar and butter, and expensive gift-giving. Satisfy your hunger with a healthful heaping of gratitude.
Sources
"Flex Your Gratitude Muscle, and Lift Stress Away," by Jan Bruce at huffingtonpost.com.
"Pass the Gratitude: Recipe for a Happy Thanksgiving," by Glenn D. Braunstein at huffingtonpost.com.
Image Credits
Fall mat workout: pixabay.com/en/sport-autumn-nature-tree-outdoor-1005886
Happy: pixabay.com/en/happy-woman-smiling-happy-young-1209728
Hands with flowers: pixabay.com/en/flower-hands-giving-give-gift-22656
Related Articles: