by Michelle Sutton-Kerchner
It's Halloween! Candy is on the brain, which can mean it's soon to be on the hips. Treat yourself without being tricked into a long-term setback …
For some, Halloween is seen as the beginning of the end. The presence of candy in overflowing plastic pumpkins is too much to resist. This all-or-nothing mentality feeds on itself, not just the sweets. Bite by bite, we feel our reserve and commitment to a healthier lifestyle dissolve. Suddenly, it's Thanksgiving and the winter holidays where food is the main focus of festivities. In other words, at Halloween you could be teetering on the commitment to a year's worth of healthy living.
If the mere sight of costume-clad kids scooting around your neighborhood triggers sugar cravings, you are not alone. At any given moment, people in homes around you are digging into goodie bags and sorting through heaps of sweets for their childhood favorite. Those on the sidewalk are probably settling for luck of the grab, stuffing their mouths with whatever is grasped before their kids discover their theft.
As for trick-or-treaters themselves, the average child accumulates 3,500 to 7,000 calories worth of treats on Halloween night. You can bet that number isn't from the occasional pretzel packets distributed. (But, hey, at least some folks are trying!) The American Dental Association actually created a name for cavities that tend to result from this holiday: zombie mouth. Along with the rise in obesity, childhood cavities have increased for the first time in 40 years.
Be Prepared
Before candy collecting and distribution begins, be sure to eat a healthful meal. Although tempting, it's not the night for fast food or pizza. Counteract your upcoming splurges with plenty of vegetable and fruits, along with protein to keep stomachs full. A slice of pizza on the way out the door is akin to "saving room for candy." And, you surely can squeeze in that fun-sized chocolate bar.
Have grapes, dried fruit, and other healthy sweets on the kitchen counter. Put them in a festive bowl to attract attention. You may be surprised at how they satiate the sweet tooth. Do the same at upcoming holiday gatherings. It's hard to resist fresh fruit and dip, even if it is displayed next to pumpkin pie and cookies.
Get the most from your Halloween excursion. Participate in parades. Make frequent trips back to your starting point to empty candy collections. Make a speed walking contest out of it. (With all the excitement, that should be easy!) This also gives a respite from the chilly autumn air and fingers made stiff from carrying the loot.
If walks with toddlers and pups in tow do not typically elevate your heart rate, rest assured the lure of candy will change this. Wear comfortable walking shoes. You don't want any excuses (blisters, fatigued muscles, leg cramps) to miss tomorrow's workout. You have Twix® bars to burn off!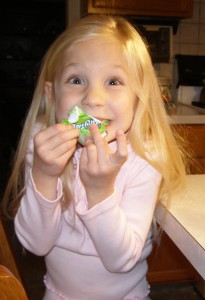 When all Halloweenies return home, sort through the candy. Immediately remove disliked pieces and those that contain any allergens. Bag them separately and donate. Let children decide with whom they'd like to share their sweet treasure. Consider a food pantry, children's home, or office staff/colleagues.
Do not bother eating semi-satisfying candy. As discussed in "Lifestyles of the Fit and Thin" (http://fitnessandwellnessnews.com/lifestyles-of-the-fit-and-thin/), those who refuse mediocre calories make a conscious decision to save calorie consumption for that which is truly worth it. Forget the sweet tarts (Does anyone really crave them?) and have a small sundae tomorrow! Moderation is key so choose wisely.
Know What It Takes
A friendly reminder of the calorie count for the season's most popular candies might help. Here's to mindful munching:
Snickers (59-gram bar) and Baby Ruth (60-gram bar) have 280 calories each, Mr. Goodbar (49-gram bar) has 250 calories, and Mounds (49-gram bar) has 230 calories. Hard candies and candy corn are lesser-caloric options.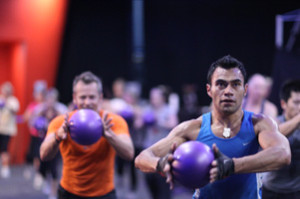 Fear not! Be impressed with the average caloric burn you accomplish at each of these Group Fitness classes. Here's to mindful burning:
BODYSTEP, 620 calories
BODYFLOW, 390 calories
BODYCOMBAT, 737 calories
RPM, 675 calories
SH'BAM, 506 calories
BODYPUMP, 530 calories
BODYATTACK, 735 calories
Schedule these on your calendar this holiday season!
Substitute with Fruit and Veggies
To accomplish and maintain a healthy weight, and improve overall health, eat more produce. There are many ways to include more fruit and vegetables in your diet. Get creative and make them part of your daily nutrition plan. Use them to replace less healthy ingredients. They will help reduce caloric intake while filling you with vitamins, minerals, and compounds that help reduce risk for cancer and other chronic diseases.
Eat fewer calories but enjoy the same amount of food, experts suggest. Typically low in fat and calories, fruit and vegetables still manage to keep us full with their high fiber and water content. To keep a balanced diet, still include grains, meat, and dairy. However, consider cutting these portions in half and replacing them with extra veggies or fruit. Less pasta, more broccoli; skip the bread, have a salad for starters; replace baked potato with sliced tomatoes.  Feel satisfied without being weighed down.
Consider this:
A one-ounce bag of corn chips =
same calories as one small apple + one cup of whole strawberries +  one cup of carrots with a quarter cup of low-calorie dip.
For TV snackers, the chips will probably only get you through one set of commercials. The healthful snack can be enjoyed for most of the show. Sit down with a small bag of grapes or fresh red pepper strips, and crunch away! You won't miss the chips.
Substitute ingredients with fall's freshest. It's the season for apples, sweet potatoes, pomegranates, pumpkins, mushrooms, and clementines. It can be like eating your way to weight loss.
Consider Preventative Workouts
The latest findings indicate exercise is a great way to reduce appetite. One study group determined a simple 45-minute walk lowered food cravings for the entire day, regardless of a person's body weight. The study shows exercise can affect the body's response to food cues, which is especially significant for those attempting weight loss. A good workout burns calories– and may help curb cravings for more.
Brain activity was measured after a treadmill session, along with food intake and physical activity. There was less interest in food following a workout. The findings did not discriminate. Appetite was reduced equally in the obese and those of healthy weight. This also debunks the theory of eating more as a reward or compensation for exercise.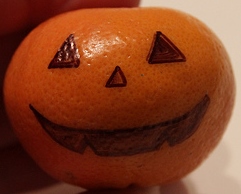 Before your Halloween candy fest or holiday meals, take time for your workout. It will burn off calories in preparation for consuming more, and help reduce your body's hunger cues. While the turkey bakes, hit the Center to journey along your fitness path. The food you do eat will be enjoyed that much more.
This Halloween, don't be frightened. A little chocolate with your exercise never hurt anyone.
Sources
"5 Tips for a Healthy Halloween," by Olivia B. Waxman at www.time.com.
"Healthy Weight– It's Not a Diet, It's a Lifestyle" at www.cdc.gov.
Les Mills
"Working Out Cuts Women's Appetite," by Mary Elizabeth Dallas at www.everydayhealth.com.
Images
Clementine jack-o-lantern (introductory photo): www.flickr.com/photos/thecampbells/5104249598/
BodyVive: Les Mills.
Clementine pumpkin: www.flickr.com/photos/oskay/4819558377/
Related Articles: