by Michelle Sutton-Kerchner
The approach of Independence Day signals one of summer's biggest BBQ fests. Serve up some activity at your summer gatherings. Burgers and salads shouldn't be the only things flipped and tossed …
Summer brings refreshing opportunities to grab random workouts. Keep cookouts healthy with the right combination of food and fun activity.
Take It to the Backyard
Bring the music and moves from your favorite Group Fitness class to your patio. While the grill warms up, so can you and your guests. Give yourself a shot at being an instructor. Teach them a 3-minute segment of your favorite exercise routine. Get everyone up and moving as you show how fun fitness can be. If they share your love, introduce them to the Center. You never can have enough workout buddies!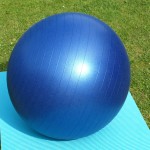 Ask a trainer to demonstrate use of exercise tools like ropes, balls, and bands. S/he can share game ideas focused on fitness. (How many crunches can Aunt Sandy do on the exercise ball? How long can Jack keep the hula hoop going?) Purchase your own fitness tools to take on vacations and leave out at cookouts. Don't forget about jump ropes, Frisbees, and an ol' fashion game of catch.  Not everyone enjoys badminton and wiffle ball games. With other options in the yard, no one has an excuse to sit alone, next to the cheese curls, munching away the day.
Organize a Daytrip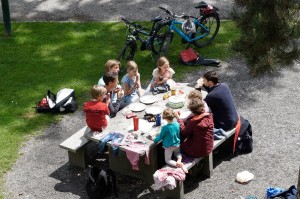 Cookouts don't need to be hosted in someone's yard. Consider packing a picnic and hitting the trails. After an invigorating hike, pop open the coolers and enjoy a delicious meal that is ready to be savored. Go canoeing or rent a paddle boat. Eat along the water's edge when your legs are ready for a break. You may have taken a day off from the Center, but you still can manage some exercise.
The change of venue for a gathering of family and friends is a perk in itself. Add a new dimension to your relationships as you discover more about each other. You'll have extra time and energy saved from pre-visitor housework and yard-work. Heck, you even can leave the lawn unmowed! Bring a camera for great photo ops with nature as your backdrop.
Thoughts for Food
Summer's heat can ruin even the most healthful meals. Look for a park with amenities, such as pavilions for shade, mini grills for cooking, and bathroom facilities. Some locations may offer electricity, ideal for keeping foods hot. Bring hand-sanitizer and table covers to keep things clean. Put food out of direct sunlight, if possible. Store cold stuff on ice for as long as possible. Save ice packs for leftovers on the trip home.
If grilling, pack uncooked meat in tightly sealed containers away from the rest of the food. Be sure to include plenty of fresh veggies and fruit. Some produce can double as hydrators because of their very high water content. These include cucumbers, watermelon, lettuce, zucchini, and strawberries. Try to avoid mayonnaise-based salads, which can spoil easily in hot weather.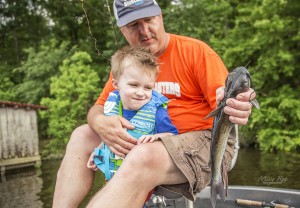 Schedule an eating time, and let your guests know. This prevents food from sitting out for an extensive period as guests arrive and depart. Food should not be left out for more than 2 hours, 1 hour if the temperature is above 90 degrees. Keep on ice or heated, if food must remain out for longer. Providing a timeframe helps people plan activities around the meal. It also limits the amount of time you have to play host.
Sources
www.mayoclinic.org
Image Credits
Exercise ball: pixabay.com/en/exercise-ball-large-blue-gymnastics-374948/
Family picnic: pixabay.com/en/family-in-the-free-picnic-brunch-771720/
Fishing: pixabay.com/en/fishing-childhood-leisure-child-797187/
Related Articles: