by Michelle Sutton-Kerchner
Soon, the holidays will be finished for another year. Some greet this knowledge with a sigh of relief. Enhance your enjoyment. Look back without regrets …
Stay True to Yourself
Often, people are happy to bid farewell to the holiday season because so much is focused on the unrealistic. It's a time of year when we find ourselves probably spending too much, smiling when we don't feel like it, hugging people we hardly know, and posting it all on social media. Our comfort zone evaporates as we try to live according to hyped holiday imagery. But, realistically– do greeting cards ever evoke the joyful tears seen in TV commercials?
Competitions outweigh sincerity: who has the most decorations, gives the biggest gifts, cooks the best dinners. Some find themselves living an illusion right into the new year. If lucky, self-awareness brings us back to reality. Otherwise, we greet the new year wondering why we feel at odds with ourselves and overall glum. Sure, the bleak winter lies ahead, but that can't be blamed for all of it.
Remain the Wonder-full Human You Are
Stick with the familiar ingredients you love.

Cook with familiar ingredients to make your favorite dishes. You don't need exotic recipes found on trendy TV shows to wow anyone. Good, home-cooked flavor means more than a high-end piece of filet with an unpronounceable sauce. Create your own specialties. Make them part of your history to be shared with loved ones.

Make time for your workout. People use the hectic holidays as an excuse to skip exercise. Schedules get overloaded year round. Yet, we manage. Stay committed. Missed workouts do not reflect extreme busyness as much as a need to reprioritize. Don't succumb to the holidays' association with missed workouts and overeating.

Santa doesn't skip his workouts. Neither should you.

You can enjoy festivities without excess eating and drinking. With ads focused on baked treats enjoyed with festive drinks, it is easy to assume holidays and weight gain are synonymous. When energy and mood need to be at peak levels, fuel choices must remain nutritionally solid.

Take time for your favorite activities. Ice skating at Rockefeller Center might spark the holiday spirit for some. However, a dash through the lit-up city is not a requirement. Neither is attending tree-lighting ceremonies or caroling nights. (Weary shoppers may even cringe at these thoughts.) For some, the simple fun of playing dreidel by the fire with the kids evokes the most holiday joy. Define your holidays with your favorites, not what the world may dictate as must-dos.  

Take time for your own holiday pleasures.

Focus on others. If the world turned its attention to others, we could all achieve the real goal of the holidays: love. After all, isn't the main purpose of the shopping, cooking, and planning to brighten the lives of others? Family, friends, and even those unfamiliar guests we find tagging along with them. Once we stop stressing over holiday perfection, we are able to turn outward. Radiate the real meaning of the season.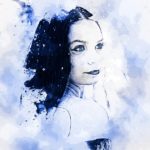 When the twinkling lights are stored and crazy gifts are returned, you will feel better knowing you followed your own path during the holidays. You also will be happier starting 2017 without a depleted savings account, an inflated waistline, and other symptoms of "holiday hangover." Plow past the hype and remain committed to your best self.
Image Credits
Peaceful dove: pixabay.com/en/peace-dove-bird-symbol-love-1010292
Vegetables: pixabay.com/en/mushrooms-tomatoes-greens-nutrition-1351561
Outdoor family fun: https: pixabay.com/en/family-fun-snow-sledding-winter-626830
Woman emerging: pixabay.com/en/ice-snow-woman-winter-portrait-1518145
Related Articles: