by Michelle Sutton-Kerchner
Probably the biggest meal of the year is about to occur. Your kitchen may be ready, but are you? Take these tips to the dinner table and have a healthier Thanksgiving …
The average Thanksgiving dinner has over 2,000 calories. Fear not! You don't have to starve yourself to counteract this monstrous meal. With some smarts, a little willpower, and a few extra reps on the Exercise Floor, you can eat, drink, and still button your pants.
Plan Ahead
Schedule a trip to the Center prior to your big holiday meals. Even a short workout may reduce appetite. Some studies monitored the brain activity associated with appetite. They found a decrease in food interest immediately after exercise. As a bonus, you burn off calories lingering from that morning latte or holiday dinner taste-test fest. (Calories count even when eaten in random spoonfuls from the pot.)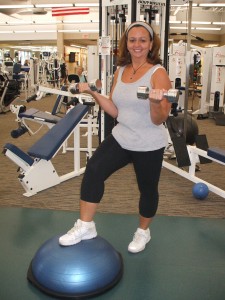 You probably want to spend the day with family and football games so make your time at the Center count. Schedule in a half-hour workout prior to any gatherings.  Use that time for a quick, high-intensity workout that blasts calories in minimal time.
If you're watching your waistline, avoid elastic waistbands. Wear clothes that are a little on the snug side. They will be less forgiving if you start to overeat. Think of it as a subtle reminder between you and your skinny jeans.
Be sure to eat a complete breakfast and make time for lunch. Even a light lunch is better than "saving up room." Remember not to "waste" calories on semi-interesting foods. Save them and any sugar intake for the celebratory eating that lies ahead. A serving of homemade stuffing or hot apple pie trumps stray candy leftover from Halloween.
You do not want to begin a festive gathering with low blood sugar and dehydration. Gathering with relatives can be its own challenge without a grouchy disposition brought on by hunger.
When hungry, we often eat faster and dish out larger portions. By eating fast, more food is consumed before the brain registers the stomach's fullness. Also, alcohol absorbs more quickly into the bloodstream on an empty stomach. Suddenly, you risk being an irritable guest, with decreased inhibitions, who is hungry. An attack on the buffet table and an annoying co-diner may be imminent. Fuel up before the feast. And, hold off on the wine until you enjoy a least an appetizer or two.
Choose Wisely
Know everything being offered before you serve yourself. Then, prioritize your favorites as a few splurge choices. You may prefer dark over white meat, yet decide on leaner white slices so you can save a splurge for something that matters more. Serve yourself with a table spoon instead of a serving spoon or ladle. This lets you sample the variety without overeating.
Go for the healthiest options first– veggies, garden salads, and lean meats. There will be less room to pile on the mashed potatoes, stuffing, and creamy casseroles. Satisfying your hunger throughout the day prevents gorging on appetizers and pre-meal bread. (Skip dinner rolls and bread all together. It is available every day. It's boring.)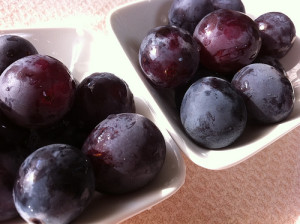 If you are hosting, think outside the turkey. Traditional dishes are comforting and celebratory. Don't skip them. Make them healthier. Use low-fat milk for mashed potatoes and casseroles. Replace the potatoes with cauliflower for a creamy twist without all the carbs. Choose fat-free meats. Offer plenty of fresh seasonal fruit and vegetables. Substitute plain low-fat yogurt in dips and spreads that call for mayonnaise. For those who prefer a meatless meal, consider low-fat vegetable lasagna or sautéed seafood.
Stock up on plastic containers to share the wealth of leftovers. Everyone can enjoy a little slice of Thanksgiving in the days that follow. And, no one person is stuck with the burden of a week's worth of overeating the same foods.  Forgo standard turkey sandwiches, which often include a sampling of all leftovers squeezed between bread.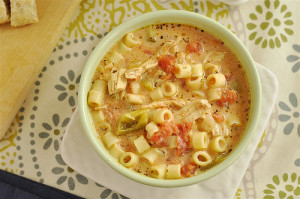 Make soups and stews with leftover meat, stock, and vegetables. Enhance with a bag of frozen or chopped fresh veggies, although you probably have enough just from your buffet table. Freeze these for a hot meal that is ready to go in the cold winter months. Share with family and friends when they catch the inevitable colds of the season.
Get Moving
Many use turkey as an excuse to laze around post-feast. Experts acknowledge turkey contains the amino acid L-tryptophan, popularly cited as a kind of dietary sedative. However, it is not likely the cause of Thanksgiving Day fatigue. L-tryptophan's sleep effect only occurs on an empty stomach when eaten with no other protein sources.
This same amino acid is found in other common foods, like eggs, yet no one claims they have a sedative effect. Perhaps the popular association between turkey and fatigue is a placebo effect. More likely, Thanksgiving fatigue is the outcome of overeating and that extra cocktail. A full stomach requires blood for digestion, which reduces blood flow elsewhere. Big meals, especially those high in carbs and sugar, naturally trigger sleepiness from the effort required to digest.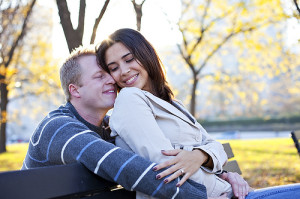 Holiday stress, whether hosting or attending a gathering, also induces fatigue. Instead of sleeping off the effects of food and family, take a walk. Get fresh air and perhaps a fresh perspective on the day, a tense situation, or the meaning of life. No excuses of turkey sedation!
An invigorating walk burns off calories and allows time outside the confines of what is likely an over-crowded house. It also allows one-on-one time with a special relative you don't see often, including the spouse you rush by every morning and crash next to at night. Take advantage of free babysitting and step into the autumn air with your loved one.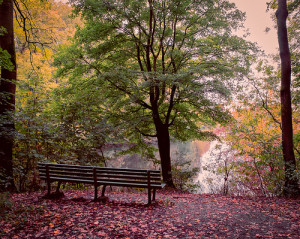 Spice up your Thanksgiving with a walk that includes strengthening exercises. Speak with a personal trainer for ideas on how to use random park benches or bike racks to add oomph to your post-meal walk. Some examples: perform step-ups, squats, push-ups, and pull-ups. Try this:
The Bench Hop: Sit on the edge of a bench. Jump in the air as high as you can, throwing arms up with you. Then, return to seated position. Do this for 60 seconds.
Extra Challenge: Lift left leg straight in front of you a few inches off ground. Bend right knee to sit down briefly on bench. Repeat motion for 60 seconds. Switch legs. Works the glutes and quads.
Friendly tip: Don't add intensity to a walk taken on an full stomach.
Be at Peace
Practice mindfulness so your senses truly come alive this holiday season. Indulge in the moment, notice each breath, and savor every delicious bite. Fit in your workout, perhaps a modified version before the rush of your day. The Center (with accommodating hours) is your base to rejuvenate, and work off all those holiday stresses and splurges. Bring on the guiltless spoonfuls!
Recognize the many personalities around your dinner table. Embrace the positive of each while they are in your presence. Often, what we most crave is calorie-free– a caring embrace, a kind word, or a warm smile. Those are sweets everyone can afford in abundance.
Sources
"Healthy Holiday Eating Tips for Thanksgiving," by Gloria Tsang at www.healthcastle.com.
"Thanksgiving Health Risks," by Rick Maloof at www.msn.com.
www.fitnessmagazine.com
Image Credits
Apples (introductory photo): http://www.flickr.com/photos/verzo/5086084120/
Black grapes: http://www.flickr.com/photos/treevillage/5086849054/
Turkey soup: www.flickr.com/photos/yourhomebasedmom/8192557882/
Fall couple: http://www.flickr.com/photos/telachhe/4642200108/
Autumn bench: http://www.flickr.com/photos/rocketheo/10249695265/
Related Articles: