by Michelle Sutton-Kerchner
To make a lasting effect in this world, it is not what we have. It is what we give. Here, we celebrate several members who give inspiration to carry us through a new year, with perhaps a spirit renewed for a lifetime …
Steven Palder: A Life Saved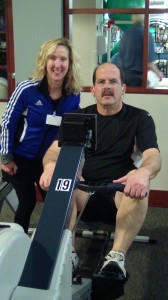 "I should have died on that fated day in April," emphatically shares member Steve Palder. A bout on the elliptical triggered Center staff to call a Code Blue as they rushed to his side during this night Steve describes as "surreal."
Undiagnosed hypertension led to a rare cardiac event for Steve, which caused a partial tear in his aorta. Ironically, Steve is diligent about getting annual physicals. He attributes his situation to an excessively stressful lifestyle. Steve is a pediatric surgeon who raised four children on his own. Thankfully, he managed to maintain a commitment to workouts. He attributes his optimum fitness level, and the Center's preparedness, to saving his life.
Post-surgery, Steve's rehabilitation physician lightly told him, "Get out of here. I can't do anything for you," referencing his impressive physique. "Before, during, and after my surgery, being a member at the Center helped. I was in the best shape of my life when this happened. Whatever positive superlative that comes to mind, double it. That describes the life-saving experience I had as a result of the Center," emphasizes Steve.
A 60-year-old fitness buff, Steve is more proof age is just a number.  He did not have any indication of the trouble ahead, including that morning. "I was doing crazy stuff with weights for a guy my age, including the morning of my event. I tackled the stairs with 70 pounds of weight in a quick morning routine. There was no indication of trouble ahead."
Luckily, Steve was not alone during his emergency. Yet, he is quick to indicate luck was only part of his story. "Everything worked as it should, which is how I survived and managed without complications. Center staff reacted quickly and knowledgeably. I am forever grateful to them."
If alone, Steve believes he would have died. With quick response, he underwent a successful four-hour cardiac bypass surgery. Sixty percent of people die from this condition. Out of the 40 percent who survive, 60 percent of them have a terrible outcome. "I can't pick a word to describe how fortunate I am."
After four months, Steve got medical approval to continue his workouts. He improved his diet, lost weight, and introduced the stress-relieving techniques of yoga into his life, with plans to take Yoga classes once confident enough. "I returned to work and the Center. But, I felt sorry for myself," he admits. Although Steve realizes he should have been happy to be able to start over again, he was frustrated because he had to start fresh. During recovery, he lost the muscle mass he worked hard to build.
Although some would have been fearful to get back in action, Steve spent the first month in pity-mode. He got serious the next month though, and returned to five hours of cardio and three hours of weightlifting per week. He accomplishes the same amount of fitness time as pre-surgery, yet with decreased intensity. His cardio level is almost up to where it was. His strength is an improving work in progress.
From Steve, we learn to put the ego aside. His gratitude toward life and those who helped him survive is insightful. Through this, he was able to quiet expectations of his previous self and evolve. He truly is a survivor.
Leslie McCausland: Never Too Late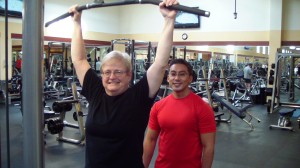 One month shy of 60 years old, member Leslie considers herself at an amazing place to be. This year, her life has "fallen into place." A lifelong athlete with a passion for running, Leslie's sneakers gathered dust from aching knees. Her physician advised her to stop running. Her daily circuit of five or six miles was replaced with a couch-potato lifestyle. Envisioning herself as a frail old woman in a motorized cart, Leslie put it in full gear. It began with the Catholic season of Lent, which seemed a significant time to make an improvement. She abstained from sweets and alcohol for five weeks and noticed her knee pain reduced significantly.
After discussing her discovery with a friend, he suggested the Paleo plan, which consists of eating fresh fruits, vegetables, and lean meats. Sixteen weeks later, and with improved knees, Leslie lost 35 pounds. Inspired by improved health and a desire to maintain it, she took the next step.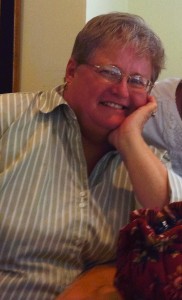 "This [the Center] was the other piece I needed," informs Leslie. She and her husband became members. After a brief introduction, Leslie hired Personal Trainer Ramoncito "Mon" Herrera to assist, assured he fit her style and personality. "This year has been a fabulous journey. Fitness has done wonders for me. I'm delighted." Her husband, who struggled with heart health issues, became someone to emulate. "He's so fit now, it is ridiculous. His physician wishes he had more patients like him," confirms Leslie.
"There are no coincidences. People and things come into your life for a reason. The Center and its staff provide a wonderful, caring experience." Leslie is especially grateful to Nurse Manager Margery Cottrell. "Margie's nursing assessments inspire me to be the best I can at this time in life. Trainer Mon challenges me with every movement, yet remains supportive. However, Leslie shares the most critical factor: "A magic pill or potion does not exist. We cannot eat whatever we want and skip workouts. The individual must put in the effort, too."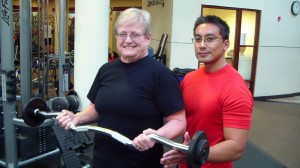 A healthy lifestyle requires an active partnership with healthcare practitioners and fitness professionals. "They helped me recognize my immediate goals and realize it is never too late to begin a commitment to a lifetime of fitness. Start today, regardless of life stage. Invest in yourself."
Leslie works to get across her "finish line," realizing many goals will follow. She lost 9.5 percent of her body fat, added 13 pounds of lean muscle mass, and lost 10 pounds– all during her 24 sessions with Mon. Her total weight loss is over 50 pounds. "This is a lifelong journey to carry me into my senior years. I have established a terrific base to attain that goal," she comments.  Her 80-year-old parents still enjoy robust health and activity. Leslie wants to capitalize on her good genetics. She realizes being fit is the way to accomplish that.
"I love being active and the positive impact it has had on my life. I even may be able to enjoy some light running again," she says in reference to a new pair of trail-running shoes. She definitely has taken the first step in this exhilarating, all-weather run. "This has been an incredible year for me."
Kathy Testa: Learning to Smile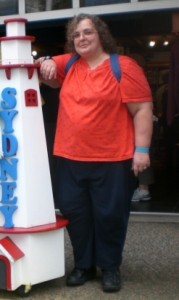 Member Kathy joined the Center to improve strength and reduce weight, however, not in the physical sense. She needed exercise to help lift the weight of depression that shrouded her being. After suffering depression for 20 years, Kathy knew the illness like an unwelcome companion. Relentlessly, it lingered in the background of her days until situations made its presence prominent.
"During the best times, I was able to function normally except I lacked enjoyment in life.  At other times, I could barely get out of bed. When the disease was at its worst, I wanted to die. I seriously considered suicide on a regular basis," admits Kathy.
Multiple hospitalizations, medications, and psychotherapy quieted the illness into partial remission. Yet, she still didn't find much pleasure in life and anxiety plagued her. "And I now had another problem: Inactivity, stress-eating, and medication side-effects caused significant weight gain."
Kathy's employer at the time had a fitness facility on-site. She was too self-conscious to work out there; depression and self-esteem issues often coexist. Everyone she knew who used the facility was in good shape, according to Kathy. She assumed she would be the only one out of shape, as well as clueless about how to exercise.
An illness-related job loss in February 2012 forced Kathy to move in with her mother, a Center member of 10 years. After two months of encouragement from her mom, Kathy decided to visit the Center. A walk around provided ease-of-mind as she witnessed members working at their own pace; some athletic, others doing rehabilitative training, people of every shape and size, all comfortable.
"The stereotype of someone who frequents a 'gym' does not exist here.  The Center is a place where I can feel comfortable just as I am," acknowledges Kathy. Using her trainer assessment, Kathy went from having no idea how to exercise to knowing exactly how to accomplish her fitness goals. Her personal trainer taught her fitness beyond bikes and treadmills.
Complementing the benefits of exercise itself, Kathy nurtured herself by being part of a supportive, positive environment. Loneliness is a key element to depression. By having the courage to start an exercise program in a fitness community, Kathy afforded herself another remedy to her illness.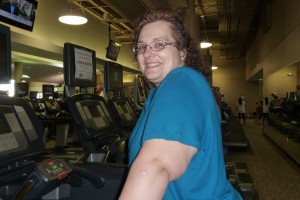 "When I joined the Center seven months ago, I was unaware how much I would enjoy being here and working out.  Exercising is fun, and the social aspect is great, too." Kathy mentions. She speaks of the supportive camaraderie, which includes compliments from strangers on her progress. "People I never met before encourage me to keep up the good work. That makes a huge impact."
Kathy has journeyed far in her short time at the Center. Currently, she works out six days a week (increased from her initial three). She made improvements to her diet. And, she acknowledges these are lifestyle changes, sustainable for the long-term. Kathy lost 45 pounds in seven months. She bought her first pair of jeans in 15 years and, she assures us, they do not have an elastic waist.
These improvements are healthy and admirable. Yet, the most profound outcome is her improved mental health. The physicians who treated her depression advised her of the benefits exercise could have on her condition. "I never thought it would make this much difference," she confesses. Kathy recently stopped one of her antidepressant medications. A new acquaintance could not believe Kathy suffered from depression.
"I thought I forgot how to make a genuine smile. Now, I smile at people all around the Center. I hear myself say 'Good morning' to people without choking on the words. I find humor in things. These are totally new sensations," says Kathy, yes, with a smile.

John Sewing: Hundreds of Pounds Lighter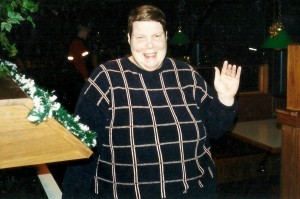 Many know the trials of reaching a goal weight. John Sewing spent a lifetime of obesity prior to dropping approximately 330 pounds. With the exterior weight shed, John's revived self shines for the world to see.
It began in 2007. At six feet tall, John weighed over 520 pounds. His weight caused him to need four different IVs. The medicated fluids coursed through his body but did not agree with him. As a result, he effortlessly lost 100 pounds. This was the catalyst for John's weight loss journey.
"I felt better at 430 pounds. But, I wanted to go further," shares John after getting a taste of a lighter body. Unaware of the Center, he charged ahead with the help of Weight Watchers(R) and an idolization of Richard Simmons. "If I joined the Center, I would have lost the weight quicker," John notes, adding he became a member at groundbreaking.
After 3.5 years of healthy eating and exercise, John weighed 180 pounds. He continues to maintain this healthy weight 2.5 years later.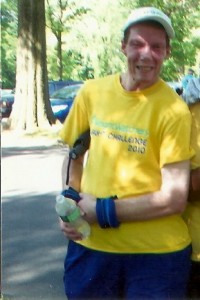 Anyone who manages a large weight reduction knows the biggest challenge is keeping off the weight. It requires continuous effort– not at strict dieting or excessive exercise but at an overall healthy lifestyle. John has made that commitment and reaps the rewards. As if tempting fate, he works part-time at Pizza Hut. "I don't eat the pizzas anymore," he chuckles.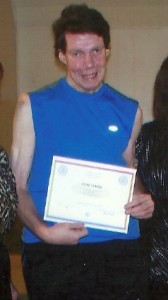 John works out daily at the Center. His fitness program includes much variety as he attempts to utilize all facets of the Center. Despite having such weight lifted from him, John still gets fatigued and struggles with knee soreness. "I love most of the exercises I do, but there are some that put a strain on my knees. I just avoid them." He is contemplating the buoyancy of water workouts for future.
John's latest challenge is dealing with the extra skin left on his structure. It causes his weight to fluctuate. He has increased to 190 pounds, but justifies the 10 extra as newly acquired muscle. He awaits the next appointment with his physician where he hopes to get approval to reach his goal weight, which is 30 pounds less. With John's effort and determination, he surely will get there.When asked how he feels, John beams he is very proud. His dream is to share his story on national television.
John is a beautiful example of weight loss success. Most importantly, he is an inspiration to all who strive to achieve a healthier life. "Never give up," he advises. "Keep believing in yourself, no matter what." He assures mistakes happen. He endured struggles and slips along his path. Yet, he got back en route. The journey takes patience and is not perfect; success depends on continuing past the imperfect moments.
Amy Norton: Surviving with Support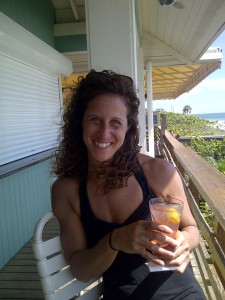 An obsessively fit, healthy woman, complete with a master's degree and family, Amy was living her dream. She put a teaching career on hold to stay home for 14 years with her growing children. They thrived as did Amy, until the day cancer was found.
Two years ago, Amy underwent a lumpectomy of her breast to remove stage zero cancer. Despite being in excellent physical condition and not being genetically predisposed, Amy fell victim to breast cancer. Almost two years passed in remission. Then, July brought news: The cancer was back. Amy underwent a double mastectomy with reconstruction. This usual lengthy process was able to occur in a single extensive operation, thanks to Amy's strength.
Simultaneously, Amy was in the process of a divorce from her husband of 19 years. Despite extensive counseling, the couple amicably parted.
Amy's life was spiraling out of control, yet she had the continuity of friendship. Where she toiled almost daily to build her best body, Amy effortlessly built her best support system. The Center's Morning Crew is how this group of varying size references themselves. They are the 5:00 a.m. regulars, hitting the Exercise Floor before the day begins.
"Through everything, the Morning Crew has kept me motivated. Nothing else could get me out of bed at 4:00 a.m. to exercise before my job (a post-divorce necessity) and parenting responsibilities, especially during the recovery process," shares Amy. Healing from surgery and a failed marriage, there were days when she admits not caring. Then, a small gesture from her Center workout buddies would lift her.
Amy referenced a photo the Morning Crew posted to her on Facebook, which informed her she was missed. "The Morning Crew and the Center community has had such a huge impact on my life and recovery. It hasn't been an 'above and beyond' kind of way. The little things, like this photo, made a huge difference," Amy says emphatically.
According to Amy, the Morning Crew kept her going to the Center even when she felt she could not be there. "I'd get a text message or phone call, asking where I was." Despite the physical and mental setbacks, having such support made this journey bearable.
Although her surgery was only a mere few months ago, Amy is slowly returning to her previous fitness routine. She admits it is not easy; her chest muscles were destroyed during the 6.5-hour surgery. Previously, to increase her pull-up power, Amy would wear weights around her waist. With her reconstructed body, pull-ups are not possible. At least, not yet.
Amy's pre-surgery physical strength was a huge asset to her ability to undergo such an operation and recover so well. At 45 years old, she recognizes the bigger picture. "It is not all fitness. It is fitness and wellness," she acknowledges, which is why she cut back to four 5:00 a.m. workouts a week. "Sleep is important. You have to give yourself some days to sleep," she chuckles.
One of Amy's most memorable moments is her return to the Center after surgery. "People clapped when I entered. I was amazed by how many reached out to me. Members I don't even know by name wished me well and told me I had been in their thoughts."
This is Amy's story, her hardship. Everyone experiences tough times in life. By expressing her gratitude, Amy hopes she helps people realize the necessity of letting others in. "I hate some days. My Big Picture, the life plan I worked for every day, was completely revised. It's okay to feel sad, angry, and disgusted. Have days like that, but do not let it become your life."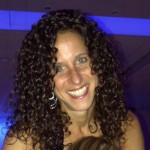 Amy notes each day she takes a step forward. Some days it is a baby step, but she still moves forward. "When you need help, seek it. When you're doing well, touch someone else's life to improve it." A little sentiment makes a huge difference, and the positive impact feels good on both ends. Amy has experienced it and learned from it.
"The Center is not just a place to work out. It is my social life. It has helped me through a very difficult time. The people here make me feel like a million bucks."
"In the midst of life's negatives, hold onto the positive, however small, and allow it to give you joy. That practice has been a huge strength for me," Amy affirms.
Take It with You
Although we highlight these members, each of us travels our own journey filled with joys and sorrows, challenges and successes. That is what makes life colorful, with variety and the unique. Our situations may appear different. However, there is a common thread. We are people who need others, for their stories, their motivation, and a kind word or two. Be inspired, and pass it along.
Related Articles: