by Michelle Sutton-Kerchner
Summer is ending. Greet the days ahead with more zest and less dread of drudgery. Here are some easy ways to perk up …
Head Outdoors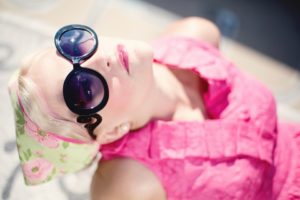 Sunshine and fresh air provide immediate relief to a dull mood. Even when temperatures are hot, you can still benefit. Elemental changes can distract attention from a troubling issue or irritable state-of-mind. They also expose you to a world larger than yourself. Feel comforted by the presence of a friendly passerby or random dog-walker. Take 10 minutes to engage with the world.
Close That App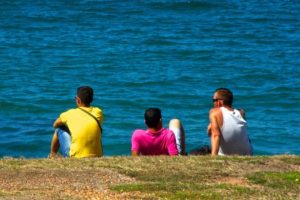 Aside from tired eyes, too much screen time translates as not enough people time. Shut out of your apps and get social in real life. Take the competition of a video game to the yard or street and play ball. Want to share stories, photos, or political rants? Have coffee with a friend. Spending excess time on social media sites or in the virtual world is known to cause loneliness—even if you have 995 "friends" online with you.
Eat Fatty Fish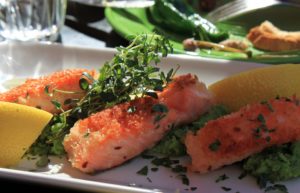 You may not love salmon, tuna, or other foods high in omega-3 fatty acids. Eat them anyway to help boost your mood and overall health. Sometimes, we must do things for our health we don't like. Think: dental hygiene appointment.
Drink plenty of water. Satisfy your sweet tooth with citrus fruit, especially during the afternoon slump. You'll get the "kick" without the caffeine.
Vary Your Workout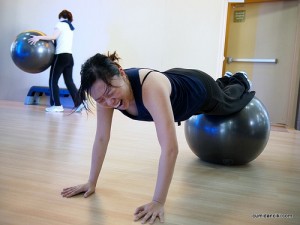 Try a different fitness routine. Sample a new class or piece of exercise equipment. Add excitement to everyday activities to freshen up your lifestyle for fall. If September is placing overwhelming adjustments on your time and energy, keep it simple. A sense of accomplishing something healthy will radiate throughout your day.
Be flexible with your workout to accommodate your current needs and schedule. Any workout you manage is more than if you sat on the couch. Enjoy an instant mood lift. High-intensity workouts help release those feel-good hormones. Low-intensity workouts like Pilates or T'ai Chi encourage relaxation and provide stress-relief.
Take Action
Be proactive to prevent minor annoyances and irritability from turning into a full-blown bad day. Your thoughts will go where you lead them. Move in the right direction. They will turn bright.
Image Credits
Woman in sunglasses: pixabay.com/en/summer-young-woman-pretty-635247
Friends: pixabay.com/en/relaxing-men-contemplation-474173
Salmon sticks: pixabay.com/en/fish-salmon-eat-food-gourmet-649068
Related Articles: