Unlike most conventional "gyms," the Center's philosophy is to replace equipment while still in good condition. This avoids downtime that can result from major repairs and such. Through the Equipment Replacement Program, cardio machines are replaced every three years and strength training machines are replaced every seven years, respectively. This allows members, literally, to keep moving with their fitness goals without any break in routine.
"New mechanisms and features are continuously being added to exercise equipment. Improved functionality results in more effective and efficient workouts," indicates Leslie Adelman Banks, Fitness and Wellness Professional Services Managing Partner. Replacing equipment on a scheduled basis assures cutting-edge technology for members. Beyond providing the latest exercise systems, many of these new pieces include flash drives and iPod docking stations to take your workout to the next level in contemporary conveniences.
When you aren't listening to your favorite tunes or reviewing content from your flash drive on the integrated personal viewing screens, you can enjoy a favorite TV show, view your kids in the Childcare room, or get timely Center announcements and e-magazine topics. It's all at your fingertips to create the ultimate fitness experience.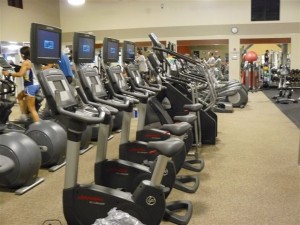 During the month of February, the new equipment will arrive. With the assistance of the Center's personal trainers, members are assured a workout that corresponds to their skill level and target points.  Personal trainers are available to help transition you to these new workout assets. Everyone should be comfortable with the latest additions to the Exercise Floor. All are user-friendly, with instructions on the equipment itself.
"This is a great opportunity to enhance your exercise program. Become familiar with the equipment. Make it your own," Leslie says emphatically. This might be an appropriate time to freshen your routine. Take advantage of your complimentary re-orientation appointment with a trainer. Allow him/her to provide you with a customized new workout that experiments with different equipment and focuses on new target points. And, don't forget your quarterly health assessment with the nurse. Another free perk to keep members on the fast track to their fitness goals!
Stagnant exercise programs are ineffective. The body gets accustomed to the movements and results plateau. Plus, the mind gets bored. Determine how to make the new equipment work best for you. It's yet another way to customize your fitness program, along with the personal viewing and listening features of built-in entertainment components.
The Center is constantly reinvesting for members' optimum health and fitness. Through continuous upgrades and proper upkeep, our exercise equipment maintains its status as star performers.
Related Articles: