by Michelle Sutton-Kerchner
Recovering from an injury or surgery can be a frustrating, lengthy ordeal. Accelerate the rehab process and stay in shape. It can be done. Here's how …
A body in motion stays in motion. Gone are the days of bed rest and prolonged immobilization when healing the body. Today's physicians recognize the benefits of an active approach. It is often best to return to some form of light exercise, if only basic movements from a reclined position. Slowly incorporate Pilates for healing power.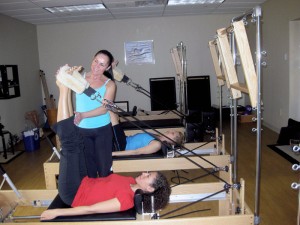 Named after its creator, Joseph Pilates, this form of exercise originated to rehabilitate sick and disabled soldiers during World War I. Its intended purpose was solely to heal and help the recovery process.  From his own hospital bed, Joseph created the precursor of today's Reformer. The body's core (stomach and back muscles) is the focus, with fluid movements expanding the workout to the entire frame.
As Pilates grew in popularity, Pilates practitioners discovered many additional uses for it. It became a fitness method, ideal for improving neuromuscular coordination, flexibility, and balance. It grew into a sport specific training program to help improve performance. Full circle, it is increasingly used again as a form of rehabilitative exercise.
Pilates remains a successful formula to help prevent injuries and surgical procedures.  It has the impressive ability to systematically strengthen, stabilize, and stretch the body in need. An added perk: The Pilates practitioner recovers while simultaneously improving (or developing anew) his/her fitness capacity.
With meticulous attention to breathing, form, and movement execution, Pilates strengthens weak or injured muscles and joints without neglecting the body as a whole. It remains gentle on joints to prevent stress, which makes it a perfect form of exercise for a recovering body.
Pilates manages to work even the smaller muscle groups buried deep within the body. This complete approach strengthens "beyond the surface" to quicken results. Unlike some other forms of exercise, Pilates doesn't introduce additional stressors that may lead to injury during the body's weakened state.
Tuning In
Pilates enhances bodily awareness. Through recognition of chronic imbalances and weak areas– and we all have them, regardless of injuries or rehab– Pilates improves with each workout. Results are more effective and efficient.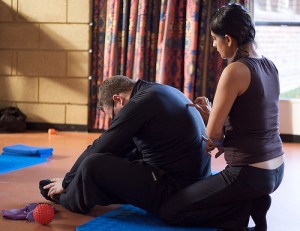 With a focus on the core, Pilates creates a long, lean, integrated body and mind. It nourishes and encourages healing by bringing mindfulness to movement. Although mindfulness can be incorporated into any fitness program, the dynamics of Pilates make it an essential element. In many ways, it is similar to yoga and other practices of ancient origin. It relies upon meditative breathing and total absorption to transform the body through muscle and mind power.
Do not underestimate the influence of these controlled, mindful movements. A form of resistance training, Pilates can work up a sweat and even provide cardio benefits. You'll be ready for a post-recovery, high-intensity workout after a Pilates commitment. Yet, its no-impact nature, and gentle ability to improve through core strengthening, can make it part of the rehabilitative process. The entire body benefits without strain.
A Shining Example
Pilates Manager Nikki Cifelli speaks of members who take advantage of Pilates during their recovery process. She mentions a specific member who was able to continue exercising after undergoing ankle surgery. The member's dedication is admirable as is Pilates ability to accommodate her.
Nikki, herself, amazed physicians with her quick, successful recovery from surgery. She began Pilates from her hospital bed, just as its originator. "Pilates expedited my recovery. I was able to maintain my fitness level, even when my abilities were limited.  I upheld my swim and bike times. My running times actually improved," she notes.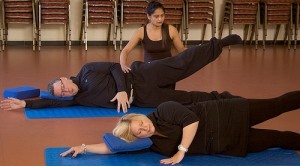 Pilates instructors cannot take the place of a physical therapist or physician, yet their knowledgeable insight often complements the therapeutic routine.
The discipline is multi-structured to include various modalities, such as Mat, Reformer, Chair, Cadillac, and such. It accommodates all fitness levels. Regardless of your stage and need, a consistent Pilates practice takes a customized approach. Each segment can be modified to suit where you are on any given day. You might be pre-playoff game or post-traction. Pilates accommodates.
Private and semi-private sessions allow even more personalized attention. After a recent surgery or illness, it's often beneficial to have a one-on-one Pilates session with an instructor. As with any fitness program, professional guidance assures safe progress along the correct path.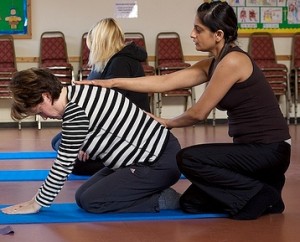 In Pilates classes, be sure to inform the instructor of your situation.  Pilates often offers specific routines for various ailments. Plus, the instructor can show how to adapt the class routine to suit your needs.
A Better Outcome
Many patients are taking a proactive approach to recovery. Physical therapists, personal trainers, and Group Fitness instructors create pre-hab programs for this growing population. Lately, some form of Pilates is often considered. Pilates instructors team with therapists and physicians to enhance the recovery process.
A patient's commitment to recover, even before surgery takes place, is a large factor in his/her success. Health insurance providers realize this as well. Some cover pre-habilitation fitness programs as part of their plan. Consider it an investment in your recovery.
Some experts suggest several weeks of appropriate fitness training prior to undergoing surgery. Pilates can be the perfect solution to prepare physically and mentally. Strengthen at the core and approach your future centered. With a Pilates body, you may find nothing in need of healing. (It's a great way to increase your body's "safe working hours.")
Your body works hard for you. Help it heal.
Schedule your Pilates Reformer demo!
Fill out this form to request a consultation on how Pilates can benefit you!
Sources
"Why Pilates Is Widely Used by Physical Therapists," at www.everything-about-Pilates.com.
Image Credits
Pilates, Group Mat (introductory photo): http://www.flickr.com/photos/sazztastical/4137021270/in/photostream/
Pilates, Guiding Man: http://www.flickr.com/photos/sazztastical/4136257911/in/photostream/
Pilates, Guiding Man (side): http://www.flickr.com/photos/sazztastical/4137020438/in/photostream/
Pilates, Guiding Woman: http://www.flickr.com/photos/sazztastical/4136257839/in/photostream/
Related Articles: