You've probably done some binge eating this week. And with the holidays, there's the threat of more to come. It's okay. There is a healthy life after mashed potatoes and pie …
Turn that disgusted sigh into a deep cleansing breath. Enjoying a holiday meal– even one rich in calories, fat, and sugar– is an acceptable, infrequent splurge. Acknowledge that and get back in action. That is what matters.
Get Back on the Bike (Elliptical, Rower, You Get the Idea)
Do not let holiday dinners and treats sabotage your overall healthy lifestyle. Allow yourself to indulge in moderation while maintaining your healthful standards. Nothing motivates second-helpings like feelings of deprivation and guilt.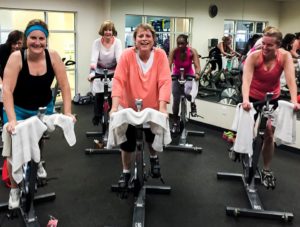 Congratulate yourself for repeatedly returning to Cycling class and kale salads after a pile of gravy-smothered stuffing and too many cookies. You overcame a top excuse (quitting because of a setback) many use for never doing another rep again. A healthy lifestyle cannot succeed with an all-or-nothing approach.
Humans have setbacks, whether in the form of holiday cocktails or a spell of couch days. To be successful, recognize you are not a machine. Be accepting of yourself and your actions. Then, get back on the Fitness Floor.
Try Something New
Learn how to use different exercise equipment. Try a new Group Fitness class. Consider one that incorporates weights to multitask. Work muscles in new ways to increase the challenge and intensity.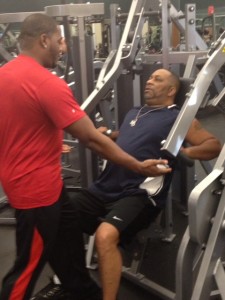 Hectic holidays can limit your workout time. Change up your fitness routine to maximize your efforts. Novelty workouts require increased focus (burning off stress), increased intensity (burning off holiday treats), and renewed commitment (adding new joy to your season). A fresh workout offers the motivation you need to stay committed to your health through the holidays.
Schedule your personal training reevaluation for a new fitness program and assessment of your goals. If possible, schedule a few training sessions to help establish your routine and keep you accountable during weeks when time is limited and temptations are strong.
Share the Wealth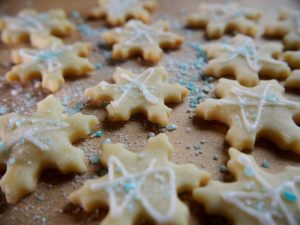 Do not let guests leave your home empty handed over the holidays. No, not because they are laden with gifts. Send them home with leftovers. Purchase inexpensive containers specifically to fill with food. Keep some of the healthful options (turkey breast and sautéed green veggies). Be generous with the creamy side dishes, fattening appetizers, and calorie-loaded desserts.
For some, baking and holidays are synonymous. You still can enjoy this tradition without consuming a dozen sugar cookies and a pie in the process. Make these treats for gifts. You actually may get more enjoyment out of sharing than if you ate them yourself. Your waistline will definitely benefit, regardless.
Psst: This is a great time to give away any lingering Halloween candy, too.
Fitness Manager RJ's Post-Feast Favorite
RJ uses all the "fuel" he consumes during the holidays to create maximum muscle growth. His go-to:             the deadlift.
"The deadlift works all the muscle groups. You feel strong just by doing this exercise," he informs.
It is officially the holiday season. We all can benefit from feeling a little stronger!
Image Credit
Holiday cookies: https://pixabay.com/en/cookies-bake-cookie-pastries-2926105
Related Articles: