by Michelle Sutton-Kerchner
After the winter we experienced, everyone wants to get outdoors. Even the most unlikely want to join a sport or become a runner, walker, lifeguard, crossing-guard. Anything to come alive with the signs of spring. Your mind is ready for bright, warm days. Now, prepare your body…
Perhaps you've been considering your first racing event. Maybe you want to give beach volleyball a try this year. Or, it just might be time to put your physical self in full gear. Whatever your goal, capitalize on the promise of spring to get you there.
With cold, snowy days behind us, there is one less excuse for delaying your workout. Even diehard veterans may have used the weather as an excuse in the recent past. Aside from faithful trips to the Center and occasional snow shoveling, physical activity may have been limited.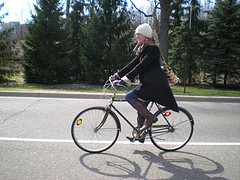 Did you fall behind in your fitness endeavors? Are you ready to kick up your exercise program for some accelerated calorie burning? Shorts season is almost upon us. If this reality makes you shudder, it's time to get serious again. No more half-motioned Step classes and easy settings on the exercise equipment. Admit any slacking and get strict. Become your own drill sergeant, with the robin's song as your whistle.
Pace Yourself
Beware of over-eagerness. It can be your downfall. If you're starting back after winter hibernation, consider purchasing personal training sessions to keep you focused, committed, and within your physical capacity. Transition from your winter routine slowly to avoid injury and burnout.
Ten percent is the target cut-off. Increasing the length or intensity of a workout beyond 10 percent each week correlates with your risk of injury. If you experience any sharp or unusual pain, investigate it. It's common to feel tightness in your muscles and some discomfort when getting into a new fitness routine after a long winter. Pay particular attention if the pain presents with tenderness at a specific pressure point; swelling, tingling, and numbness; or decreased range-of-motion.
If you've been going strong all winter and are ready for spring sport-specific training, steadily shift from your current techniques to ones that condition for the upcoming participation. A personal trainer can guide you in creating an appropriate program based on your needs and goals.
Frequently check your exertion rate throughout your workouts. The talk test provides a quick way to confirm you're appropriately challenged and not overexerting yourself.  During a typical workout, you want to be capable of talking but slightly breathless.
If fitness efforts decreased over the winter, either intentionally or thanks to head cold number 15, it should take about six weeks to reestablish a strong foundation. This is also true if adapting your workout to prepare for a specific sport or marathon.  Create a training program, whether your goal is to finish a triathlon or obtain a beach-ready body. Monitoring progress keeps you motivated and consistently propelled along a steady path to goals. For days when you're tempted to overexert yourself or call it quits early, stick with the program and resist the impulse.
Thrive with Variety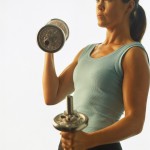 Establishing a routine that's not, well, routine is the most effective and efficient way to get in shape. Like a machine, the body can get accustomed to a workout and execute exercises like a habitual process. Your mind gets equally bored. Suddenly, you're susceptible to skipping your workout for more exciting things—like syndicated TV and blind dates. Save yourself and change it up!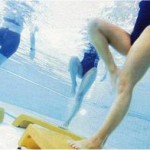 Cross training keeps the muscles guessing, so to speak. It also helps you accomplish total body workouts through its variety. Different muscles get used in unique ways as you switch activities. Take advantage of all the Center has to offer. Make it a goal to rotate your exercises at each visit: swim, cycle, change exercise equipment. At the Center, you have the luxury of continuously evolving your fitness itinerary.
Member Beth Ehret shares her experience. After months of only using the elliptical machine and shedding minimal pounds, she was encouraged by a sales team member to take advantage of all the Center has to offer.  "That turned out to be the best advice ever," says Beth emphatically.
Personal Trainer Nicole Arioso posed a life-changing question to Beth. "Nicole asked how many calories I consumed that day. At that moment, I realized I had no idea how to effectively lose weight and get back into shape. Thankfully, Nicole had a plan."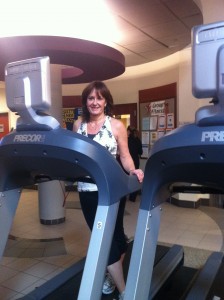 Beth worked with Nicole for two months during Thanksgiving and Christmas, the most challenging time for a dieter. Quickly, she lost 10 pounds through cardio, weight training, and healthful eating.  To strengthen her core, she began taking Pilates classes. After a month, she added Ramping classes for additional cardio and to blast a "problem area."   When her weight loss hit a plateau, she met with a Center nurse, who suggested small changes to her diet, and talked with personal trainers who updated her workout routine.
In only six months, Beth journeyed through countless miles of cardio, lifted an accumulation of tons of weight, developed  her core with endless roll-ups and scissors, and performed more squats and lunges than she can recall. Each rep brought her closer to her goals. Throughout, she counseled with the Center staff.
The result of her eclectic mix: Beth completely changed her diet, lost 28 pounds and 18 inches, and dropped three pants sizes.  "I am in the best shape of my life," she says proudly, adding under-breath, "Or, at least since my kids were born."
Timing Is Everything
It's early days. Summer leagues are just getting organized. We've yet to breakout the tanks and bathing suits. Don't expect results in a week or two. Your new Pilates-adjusted golf swing takes practice. The butterfly stroke can be tricky to master. Congratulate yourself on taking an early initiative to get summer-ready.
Consult with personal trainers, the Center's nurses, and the Group Fitness team. Connect with others at your skill level for a supportive group effort. Lifelong improvements are yours for the reaching. Grab them through the sun's rays.
Sources
"Rating of Perceived Exertion Scale," by Elizabeth Quinn at www.sportsmedicine.about.com.
"Spring Training Fitness Tips," by Elizabeth Quinn at www.about.com.
Image Credits
Hot air balloons (introductory photo): www.flickr.com/photos/zanastardust/3850951404
Woman with weights: http://picasaweb.google.com/lh/photo/ARw1VFJiLc0jSU7veq6NtA
Water workout: www.flickr.com/photos/24975064@N05/4840948510/
Spring bike ride: www.flickr.com/photos/bagaball/3415810711
Related Articles: