by Michelle Sutton-Kerchner
Lost attempts at living the good life in summer's past might lead to approaching this one with trepidation. Overbooked schedules, vacation logistics, and attempts at accommodating everyone's activities don't set the stage for lazy days in the sun.  Avoid summer stress and celebrate the season of vacations …
Make It a Positive 10
Summer is only about 10 weeks long. Remind yourself every time you utter, "This summer we'll get together/go fishing/go to the beach/visit long-distance family/take swimming lessons/learn Chinese …" Stop and be realistic. Don't make promises to yourself and others you can't possibly keep.
As summer approaches, there is a tendency to start procrastinating the unavoidable (car maintenance, doctor checkups, and similar chore trips) until those more "laidback days" arrive. We also take advantage of longer daylight hours, better weather, and less strict schedules to jam in extra fun and activities. We don't think of these things as stressful. However, keeping a fast-paced lifestyle with minimal downtime and lack of consistency, especially 10 weeks' worth, can induce stress.
It's nice to break from routine and enjoy seasonal opportunities. Make sure they include relaxing on the patio, going for a simple walk, or (imagine!) taking a nap. They don't call them the "lazy, hazy days" for nothing.
Approach the summer with a priority list. As the season kicks off, envision how you'd like the days to transpire. Determine which activities, events, and trips are most important to you and your family. List them in order and work to make them happen. Then, when you're invited to cookout number 25, reflect on your ideal summer days. Have you accomplished them? It might be time to decline that invitation and enjoy your next "priority" on the list.
Discover new ways the Center can help reach your summer goals. If water play is big on your list with trips to the beach or pool, Family Swim time or swim lessons can be beneficial. You may not have time for a trip to the shore, but the Center pool is conveniently in your neighborhood (without weather worries). When you do hit the surf, everyone will be more experienced in the water.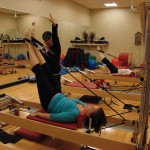 Many of us want to get in better shape. A flurry of snow storms last winter might have limited chances for exercise or provided opportunities for injury (snow shoveling and slippery walkways—nothing more needs to be said). Consider trying a new Group Fitness class or working with a personal trainer to get your pre-winter body back. The one you left in the driveway after the last pile of snow, or in the kitchen after February's cookies and coco fest. Pilates workouts, including with the reformer, are known for their healing benefits. A few informative Pilates sessions could have that nagging tug in your back gone for good—or at least until you try learning to skimboard.
School's Out, Now What?
Speaking of stress, there's the close of the school year. Exciting, yes. Anticipated, yes. An adjustment, yes.
A collective sigh of relief is breathed as kids are set loose from the confines of school and rigid schedules. For those without children, it's the pleasure of no more bus traffic and untimely crossing guards. For those with, kids can be enjoyed around the clock without pressures of homework, school projects and activities, and any volunteering you managed.
After adjusting to the new routine, or lack thereof, and adapting mutual respect among siblings (separate homes?), there's the issue of what to do. They don't know what to do with themselves. You don't know what to do with them.
Although summer is meant to be filled with free time for enjoyment, parents still need to work and kids need something to keep busy. Find a solution that works for your family and resolve childcare issues quickly. The sooner everyone can adjust, the sooner the fun can begin. Childcare venues recognize the purpose of summer—to have a break. Many offer special camp programs, excursions, and themed days.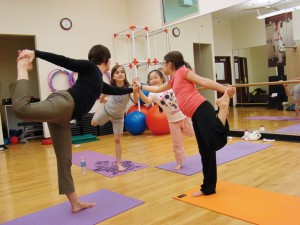 The Center's FitKids program is available to help kids remain active, as well as in shape for sports. There are opportunities in the Aquatics program as well. Children ages 14 and older are eligible for Center membership. And, of course, young ones are always welcome at the Center's Childcare Room. Although these aren't full-day solutions, they are an outlet for kids' never-ending energy. Parents gain self-time with a good workout and a reprieve from the "I'm bored" motto adopted during the second week of break. (Okay, two weeks may be generous.)
Avoid this scenario: Driving multiple kids to multiple locations for various camps, summer jobs, lessons, and practices. You may think you're being a savvy scheduler who is accommodating everyone's needs. However, any child-free time you've planned is usually squandered away behind the wheel. Time you think can be spent meeting a deadline, grocery shopping, or having a peaceful moment will burn away as quickly as your gas dollars.
Keep it simple and minimal. If you're lucky, use the time for children to visit with grandparents. Chances are—these baby boomers have accumulated vacation time they'd be eager to spend.
Make Vacations Worth the Effort
So much time, effort, and expense is put into a vacation, we often stop and wonder if the end justifies the means. However, taking time off is essential to being healthy and happy. A successful vacation provides opportunities for growth, both personal and familial.
Your attitude can define your vacation. Acknowledge there will be mishaps, such as lost luggage, stormy weather, crowds sprinkled with rude travelers. Plan for these. Being prepared takes stress out of potentially volatile situations. For example, bring backup items of essentials and a variety of rainy-day activities.
For issues beyond your control, remind yourself of that. The days will pass whether you're enjoying a blissful day in the amusement park or sitting on the worn couch at the rental house. You can't make everything perfect, but you can perfect your situation.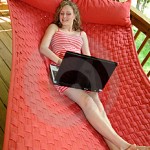 After all the preparation to reach vacation time, don't fill it with work.  Today's technology makes it easy to interrupt—and sidetrack– a beautiful day off with phone calls, text messages, and e-mail. Make a commitment to yourself to truly "get away." You'll return to work refreshed and ready to tackle the piles accumulated during your absence.
Try covering for a coworker and the reverse. This team approach assures a continued workflow and a peaceful vacation. If you must check in, set aside a specific time of day for it so it's not integrated with your downtime. Keep in mind though, a quick check-in can trigger an avalanche of repercussions.
Perhaps your budget or schedule simply won't allow a full-scale vacation. Consider a staycation. The main purpose of a vacation is to break from the ordinary and revive from the stresses of daily life. An exotic locale, and excess time and money, aren't needed.
Plan a simple daytrip to extend around a weekend. Enjoy quiet time at home for a few days. (Be disciplined enough to avoid phone calls, e-mails, and a "quick stop" at the office.) Reducing stress promotes physical and emotional health. Research proves vacations have long-lasting effects, with stress reduction up to five weeks later. Vacation time can improve the quality of your professional and personal life. You deserve a break of some type. Be creative with the form it takes.
Eliminate Seasonal Worries
Summer does arrive with its share of nuisances, such as bug bites and stings, sunburn, and outrageous air conditioning bills. (For help with such issues, see "Take the Sting out of Summer" at www.fitnessandwellnessnews.com/health/take-the-sting-out-of-summer.) However, for those who have a fear of the water, summer can present overwhelming triggers. Swimming pools, boating invitations, beach trips, and even a fishing outing can cause stressful anxiety.
Consider spending time in the Center's pool. Members often share how they successfully overcome their fear of water at the Center. With lifeguards and certified instructors readily available at all times, the pool is welcoming. Swim lessons (private and group) are available for adults and children of all ages.
Check the schedule for class times. There are also opportunities to simply become more familiar with the water through Group Fitness Aquatic classes and, for children and parents, Baby & Me programs. Some personal trainers are additionally certified so they are qualified to train in the water. If possible, take your next training session to the pool. You're in capable hands.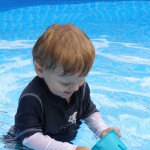 The American Academy of Pediatrics (AAP) recommends swimming lessons for children as young as age one. The AAP urges parents to provide lessons for kids ages four and older. In recent years, the AAP has become more accepting of instruction for younger children, including participation in Red Cross-modified Aquatic classes as early as six months. However, the AAP emphasizes that these lessons and splash classes do not drown-proof children.
You Deserve It
With a little preparation, you can make your summer not only look easy. It can be easy. Let yourself be a little distracted by the summer's fun. After the harsh winters of late, even the extreme heat can be inviting. (Well, for about five minutes.) Accomplish a slower-paced lifestyle, even for just these few months of the year. You've got 10 weeks. It will take some effort. Just remind yourself: You have enough. You are enough. You do enough.
Sources
"Fun in the Sun: Your Summer Safety Guide," at www.everydayhealth.com.
"How to Minimize Summer Stress," by Elizabeth Scott at www.about.com.
"Protect Your Child from Drowning," by Connie Brichford at www.everydayhealth.com.
"Secret Causes of Summer Stress," by Elizabeth Scott at www.about.com.
Image Credits
Waiting hammock (introductory image): www.flickr.com/photos/30627038@N05/3195873956/
Working on hammock: © Katseyephoto at www.dreamstime.com
Related Articles: