Every movement you make engages a complex system of muscles. By practicing yoga, you become aware of your body, each intricate element, and the strength it yields. When we approach our workouts, our relationships, our careers, our lives with this mindfulness, we live at a deeper level. We are more truly connected to ourselves and the world around us.
Yoga nourishes the energy within us. It allows us to stretch beyond our preconceived limitations to live a fuller, healthier life. The whole of yoga is a deep focus, a concentration on the body's position at any given moment. According to Group Fitness Instructor Donna Henry, this is a time when we digest life's issues. A time allotted to smooth out knots and come to terms with our place in this life.
A successful practice leaves one feeling refreshed and better able to respond to the world. We move from being a reactionist to one who wisely chooses responses to what comes our way. No longer a slave to emotional whims, it's easier to take control of our body and mind. (For more on the meditative aspects of yoga, see "Meditation for the Most Cluttered Mind" at www.fitnessandwellnessnews.com.)
Yoga Is for Stiffs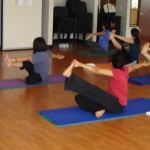 So often, people deny themselves the benefits of yoga. There is a misconception that you need to be a contortionist to make yoga work. "The real success is seen in those with stiff joints. These folks gain the most from yoga. Through yoga, you are gift-giving to your joints, which benefits the entire skeleton," clarifies Donna. There's hope for us uptights, whose most limber state occurs during a quick early morning stretch-and-yawn session.
As Donna elaborates, it becomes clear that yoga is not about capturing the most complex twist and holding it. It's an ancient form of healing for the body and mind, a restorative process, an opportunity to quiet yourself with movements adapted to your capabilities.  With proper instruction, yoga's benefits can be accomplished at any level. Member Cheryl Mills comments on her yoga experience at the Center, "The instructors work with each individual to provide encouragement at his/her specific skill level. They guide you, so you progress only as your body is ready."
"Start out slowly," suggests Donna. She recommends beginning with Gentle Yoga, where instruction is more detailed. Once comfortable, move to Hatha Yoga, an intermediate level with greater challenge. Then, try Power Yoga where speed and strength are required to move rapidly through the asanas (yogic body positions).
Previously a marathon runner, Cheryl's fitness routine now includes six yoga classes per week at the Center. She began practicing yoga only seven months ago in an effort to liberate tight joints from her marathon-running days. "When I ran marathons, I felt invincible. For me, stretches and warm-ups were sporadic at best. It caught up with me," shares Cheryl.
Total Body Workout with a Side of Peace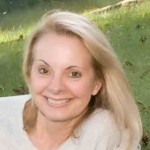 "Through yoga, I'm not hurting my joints. It allows me to push my body to the next level in a very safe way. From it, I enjoy a complete body and mind fitness program," says Cheryl, who starts most days with early morning yoga. She claims to notice a deficit on the one day a week she rests from it.
For the experienced practitioner, Power Yoga is an excellent jump-start to any day. This form, with its intense reps of the plank position, definitely delivers an aerobic workout. The variety of positions incorporated provides stretching and toning. It goes beyond the training necessary for an event such as marathon in its complete-body workout approach, which includes the core and upper body. "I'm as toned as I was when I ran marathons, and yoga requires much less time commitment" attests Cheryl, whose yoga-enhanced energy level allows her to operate an international global consulting business.
Some consider yoga to be a life-long sport. Although gentle enough to remove mental and physical kinks, the stamina and strength gained from this ancient practice is impressive. The life of a yogi is enhanced and often extended. Many find they function at a higher level. Along with stretching and toning the body, you often reach greater spiritual and emotional heights.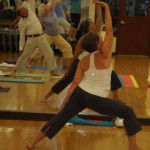 There is a variety of yoga postures and poses, each with a specific focus on the mind, body, or spirit. Study results encouragingly indicate yoga as an antidote to treat stress, anxiety, and mild depression. Those suffering a serious illness, such as cancer, could also benefit from yoga's therapeutic aspects. (See "The Power to Heal: Exercise Therapy to Combat Cancer" at www.fitnessandwellnessnews.com.) Although this practice should not take the place of medical intervention, yoga may increase self-confidence, instill peace, and act as an antioxidant in preventing or alleviating illness. A remedy that requires no prescription or insurance!
Increased balance and decreased weight gain are also perks of yoga. For those of advanced age, these health issues can become a safety hazard, if not careful. After completing a nine-week yoga program created specifically for their age group, 24 elderly women showed significant improvements in balance and stability. Those gains in physical functioning — which also included increases in walking speed and flexibility — could help prevent falls, the leading cause of nonfatal injuries for those 65 years and older.
Whether you experience an emotional breakthrough, or a simple ability to touch your toes without wincing, yoga bridges the energy between body and mind. In the process, you just happen to take fitness to the next level.
Don't Forget the Younger Set
Kids thrive on routine and need exercise. Balance out their days with a touch of yoga. Build a bond and connect on a deeper level. With the basics of yoga as a foundation, they become more at ease with their growing minds and bodies. Young yogis develop a positive practice that helps navigate life's physical and emotional challenges. It's what we all crave.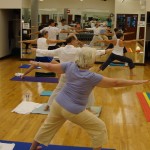 Namaste!
Please visit the Center's Web site to determine a yoga class that meets your needs and accommodates your schedule.
Sources
"Be Mindful," Daily Insight at www.yogajournal.com.
"Making Yoga Cool for Kids," My Yoga Mentor at www.yogajournal.com.
"Yoga for Anxiety," Cathy Wong at www.about.com
"Yoga—The Benefits of Yoga," Cathy Wong at www.about.com.
Related Articles: