Many can identify with Kirby. Despite best intentions, he never exercised or followed a nutritious diet. As a neighbor to the Center, he promised himself to visit since opening day. However, we all know how life gets in the way.
Almost one year to date, Kirby followed through. In May 2009, he toured the Center and met with a sales counselor. The idea of a simple appointment to "check things out" didn't overwhelm Kirby. During this introduction, he couldn't help but be impressed. With discount coupons in hand, he joined. "Other places don't offer what the Center does. It's not simply a fitness facility here. It's a wellness community," says Kirby.
Overcoming Intimidation
"Never in my life had I thought I would be joining a fitness center. I wanted to for years, but never took that 'giant step.' I was very apprehensive about actually following through, but thought I would give it a try," admits Kirby. Giving himself plenty of time to warm up to the idea, Kirby scheduled a personal training session for two weeks later.
Kirby reflects on his initial workout day. "I was terrified the first time I entered the Center on my own. I took a position on the stationary bike closest to the door. Having no idea what to do, I left within 10 minutes," he shares. We all experienced a first day on the Exercise Floor. We know it can be intimidating and overwhelming.
Kirby's Solution
Kirby hired a personal trainer after his initial free consultation. "Several months with Personal Trainer Rich provided the motivation needed.  These sessions, and Rich's encouragement, gave me the push to go to the Center on my own," informs Kirby, noting that he now feels comfortable using all the equipment available. His fears subsided, allowing him to reap the benefits of an invigorating workout.  "I would definitely encourage anyone having trouble starting exercise, and staying committed, to inquire about a personal trainer," says an uninhibited Kirby.  After several months of personal training, he stepped out (on the Exercise Floor) alone. He's been doing this about four times a week since then, with the hopes of soon adding Group Fitness classes to his exercise agenda.
Beyond learning proper techniques and use of the equipment, Kirby realized he was not alone. "I expected everyone else would be fit and know exactly what to do. After spending time being comfortable under Rich's guidance, I was open to reality. Others were down-to-earth and working at a healthier life, just like me," says Kirby. He comments on the Center's unique clientele that includes everyone from fitness veterans to those exercising for physical rehabilitation.
"The staff and trainers work with everyone at accomplishing their individual goals. It's very well-rounded here." Not knowing what to do at the Center was Kirby's biggest fear upon joining.  "Now, I know where I want to go and what I want to do," he says with confidence. Although Kirby still wishes to lose 15 more pounds, he's certainly a new person after approaching his first year as a member.  At a recent business meeting, several colleagues passed by an unrecognizable Kirby.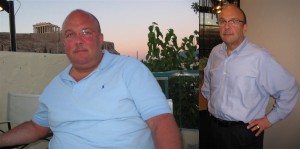 "My waist size decreased from 48 to 36 inches, my physician stopped all my high blood pressure medications, and I have a new positive attitude. I sleep better and am much more active," he attests.  He also mentions the convenience of being able to shop for clothing in mainstream stores for the first time in years.
"All this has been accomplished through diet, exercise, and determination.  The diet portion I've been managing on my own. However, the exercise, workout plans, and, most importantly, support, I owe to the Center and its staff," says Kirby appreciatively.
Getting Started on Your Fitness Endeavor
Members like Kirby, who are new to the fitness scene, tend to follow some common steps to begin this lifelong process. To get you started:
Consider hiring a personal trainer to show you the best equipment and techniques for accomplishing your personal fitness goals.
Consult with the Center's trainers. They are approachable, professional, and happy to help. Many have overcome physical obstacles of their own, including weight loss and rehabilitation.
Meet with a Group Fitness instructor prior to joining a class. S/he can provide insight about the class and be a familiar face to combat first-day jitters.
Observe. Walk the Center and watch others. Learn from those with experience and feel comfort from those who are newbies like you. Most enjoy a sense of camaraderie and are happy to share their fitness findings.
Trick yourself. Perhaps a spontaneous drop-in at the Center is all you need to spark the fitness fire within. We all desire to be healthy and fit.
Related Articles: