Right about now, you may be throwing cheerful fists in the air. The seasons of big holiday meals, homemade baked goods, and other tempting indulgent foods are behind you. Congrats– You managed to escape, and still fit into your summer shorts and tanks. (Thanks to healthy eating or elastic waist bands is a technicality we won't pursue.)
You approach your first cookout, hungry from a day of outdoor fun. "Bring it on," you think as visions of salads, juicy burgers, hot dogs, and roasted marshmallows feed your thoughts. Do not be fooled. Although it's grilled and not fried, farm fresh and not enhanced with sugars, and considered by most "light fare," what sometimes lurks at an outdoor BBQ can stealthily surprise even the healthiest eater.
Do a Salad Justice
Don't compile a plate of beautiful ingredients only to smother them in high-caloric dressing and toppings. Enjoy this summer staple as a nutritious side dish or main entree on days too hot to cook.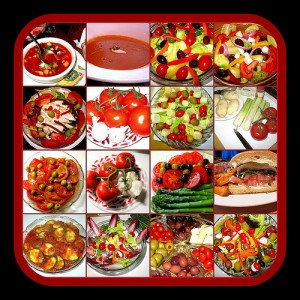 Avoid common salad blunders:
iceberg-only lettuce (lacks nutritional value)
croutons (packed with calories—think bread on a binge)
bacon bits (processed sodium morsels)
extra cheese (increases fat and caloric content)
fried and processed meat (high fat, caloric, and sodium content)
excessive salad dressing (increases fat and caloric content)
Use a variety of lettuce leaves, including romaine, baby spinach, mixed spring greens, and radicchio. Iceberg is to salads as white bread is to sandwiches.
For texture, consider these add-ons: beans, whole grains, and a sprinkle of heart-healthy walnuts or almonds.  Beans provide a "theme" for the salad. For example, a Mexican salad could incorporate black beans; Italian style, Romano beans.
Especially if this salad is the main course, incorporate a small portion of lean meat for protein. Avoid fried meats like the chicken tenders so popular at fast food and trendy restaurants. Instead, choose grilled meat (from last night's cookout) or low-fat, low-sodium deli meats cut into cubes.
The greens are your canvas, and the fillings your color palate. Create a new salad each time with picks from your favorite healthy foods. Go beyond the traditional carrots, celery, cucumbers, and tomatoes. Toss in broccoli, mushrooms, beets, zucchini, and cauliflower. Mix in fruit for a lovely hint of sweetness: apple chunks, mandarin oranges, and berries are some faves. Dried varieties like raisins, cranberries, and apricots boost nutritional impact. Customize to your mood, taste, and immediate nutritional needs.
Dressing is the downfall of many worthy salads. To top it off:
Do dip forkfuls of salad into dressing instead of pouring it over top.
Don't use more than one or two tablespoons of dressing.
Do use a vinegarette base over a cream. Consider making your own dressing using one part oil, three parts vinegar. Season to add unique flavors and hearty body.
Don't use mayonnaise and other high-fat bases. Replace with plain non-fat yogurt, fat-free sour cream, or fat-free mayo. This includes when making Grandmom's homemade potato salad.
Do try replacing traditional dressing with salsa, lemon/lime juice, or pureed fruit.
Watch What You Grill
Just because you're "throwing it on the barbie"doesn't mean it's going to be healthy. Sure, it's healthier than fried or sautéed food, and some of the fat drips off in the grilling process. However, there's not much that can be done for a rack of juicy, but fatty, pork ribs.  (Hey, they're messy to eat anyway.) Often, fatty meats are touted as the best for grilling because it helps them cook tender and moist. Perhaps you just need a new grill master!
A nice tuna, salmon steak, or chicken breasts can elicit rave reviews when barbequed with care.  Some such seafood contains a boost of heart-healthy omega-3 fatty acids. Who wouldn't want a picnic plate full of that? Use skewers or a tray to grill fresh vegetables and, everyone's favorite, corn on the cob. Substitute with turkey or veggie burgers, sausages, and hot dogs when possible. They often possess their own little zing, so no one misses their beef versions.  With a bit of ingenuity, those colossal beef burgers, along with their high-fat content and fatty trimmings, will be packaged for leftovers.
Ice Cream, Smores, and Other Fear Factors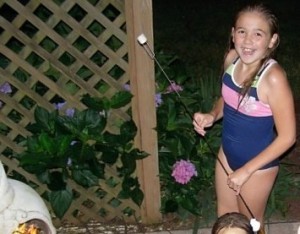 Don't deny yourself the summer delight of toasting marshmallows over a fire pit or hot coals. Honestly, it's done more for tradition than taste. Charbroiled sugar anyone? Consider replacing ice cream treats with sorbet, sherbet, fat-free ice cream, or frozen yogurt. Fresh fruit actually works better as an appetizer than a dessert because of how the body digests it. Enjoying fruit post-picnicking can cause indigestion. Serve those watermelon slices to refresh the palate prior to a meal. As for the pan of brownies or All-American apple pie served beneath a sky of fireworks, well, remember all those victory air punches. Elastic waist bands can only go so far.
Sources
"Top 5 Ways to Ruin a Healthy Salad," Shereen Jegtvig at www.about.com.
"The Low Fat Salad," Fiona Haynes at www.about.com.
Image Credits
Pile of watermelon slices: www.flickr.com/photos/34547181@N0014203890837
Lycopene Love Song: www.flickr.com/photos/96683394@N0011099158166
Related Articles: