by Michelle Sutton-Kerchner
Too often discounted as a soft workout, Pilates' many benefits go unrealized. From sport performance to healing injuries, every fitness plan can be energized by Pilates …
Early in May, Pilates diehards everywhere celebrate this method of fitness on National Pilates Day. Those who try it understand its stellar reputation, well established since its conception during World War II. Named after its creator, Joseph Pilates, this form of exercise originated to rehabilitate sick and disabled soldiers during World War I.
Pilates' intended purpose was to heal and help the recovery process.  From his own hospital bed, Joseph created the precursor of today's reformer. The body's core (stomach and back muscles) is the focus, with fluid movements extending the workout to the entire frame.
As Pilates grew in popularity, practitioners discovered additional uses for it. It became a fitness method ideal for improving neuromuscular coordination, flexibility, and balance. It grew into a sport specific training program to help improve performance. Professional dancers adopted it as their workout of choice.
The Pilates Body
One of the best reasons to practice Pilates is to get "beach-ready." Perhaps that is the reason May is Pilates month.
Yes, You Can Work Up a Sweat
Despite its gentle, stress-free approach, Pilates does rev up your heart muscle. As a form of resistance training, it increases fitness level. Exercises focus on the core but benefit the entire body, all without strain. Even smaller muscle groups, buried deep within the body, are targeted. Lean muscle mass is produced, which further helps burn calories. This complete approach strengthens "beyond the surface" to quicken results.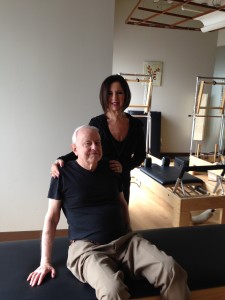 Member Robert Fleming is a believer. Over 80 years old, Robert managed to significantly increase his lean muscle mass and decrease body fat. Robert shares, "When I first started Pilates, the nurse used a device to measure the amount of muscle and fat in my body. After a year of doing Pilates at the Center, I went back to the nurse who used the same device to prove my results."
Robert completes two one-hour sessions weekly. He mostly uses the reformer, with guidance of Pilates Instructor Nellie Brook. Don't be intimidated by the reformer's appearance. As with other exercise equipment, the reformer can be adjusted to meet the skill level of the person using it. Resistance is customized according to your strength and abilities on any given day.
An added perk, Robert is pleased with his improved posture. His straight, tall stance has been noticed by his wife. Attractive posture creates a longer, leaner appearance, even in petite individuals and those trying to lose weight. You can't stretch yourself to gain that extra inch or two. However, Pilates' emphasis on a strong core and proper alignment does wonders to help you stand tall. Relieve stress on the rest of the body by standing free and strong, engaging the core rather than straining the neck, shoulders, back, legs, hips, and feet. Just the thought sounds more comfortable.
Pilates Helps the Weight-Loss Cause
Looks aren't everything. Pilates goes beyond creating just the appearance of being lean and slender. The exercises contribute to weight loss efforts. Pilates exercises focus on proper breathing. Combined with improved posture, respiratory function is enhanced. These benefits improve calorie burning and tissue regeneration, both important to weight loss (and effortless!).
A Pilates workout engages the mind. Its Zen-like focus on mindful movement develops mind-body awareness. Although we can't think our way to a thinner self, we can better think our actions and create a healthier lifestyle. We also can learn how to engage muscles for the greatest impact during exercise and everyday physical activity.
Most exercisers note improved self-esteem as a result of their efforts. Pilates practitioners tend to experience a heightened awareness of this. As you mindfully engage in movement during Pilates, progress is more easily recognized. Make your workout more effective with a Pilates mindset.
Recognition that you are worthy of a regular and satisfying workout is a self-fulfilling prophecy. Exercise empowers us. It takes the body and mind to great heights, perhaps previously thought impossible. Self-doubts are lifted. The outcome is an improved inner and outer appearance.
Valuing yourself is essential when investing precious time and energy in exercise. Pilates encourages improved self-esteem. It helps us feel worthy of our efforts at a healthier lifestyle as we become better aware of each amazing muscle's activity. And, its results keep us coming back for more.
An invigorating Pilates workout heightens energy levels and helps maintain stamina throughout the day. An accompanying cardio workout can be intensified as a result, further increasing caloric burn. Aerobic routines complement Pilates, which does not focus on cardio fitness. Be energized for your cardio workouts, and all else your day includes.
A Cardio-Pilates Combo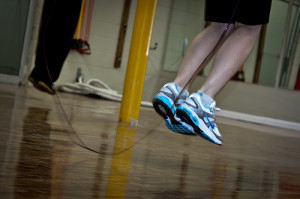 When short on time, combine cardio fitness with your Pilates routine. Choose a cardio exercise you can quickly and easily execute. Next, get ready for a type of interval training to simultaneously sculpt muscles and burn fat. Do the chosen cardio exercise for two minutes at your highest intensity. Then, hit the mat for two instructed Pilates exercises. Repeat.
Pick exercises that allow for smooth transition. Consider jumping rope as your cardio. This reduces delays between the two methods. Just drop the rope and hit the floor. The rope also can be incorporated into the Pilates exercises themselves to increase intensity. Speak with a personal trainer or Pilates instructor for more ideas.
Body by Pilates
Member Jeff Ziegler has engaged in various fitness routines over the years. His workouts always include cardio, strength training, and Group Fitness classes. A few years ago, his wife encouraged him to try Pilates. She had medical issues and used Pilates as a more controlled approach to exercise.
"Focused on core strength, Pilates attempts to use and strengthen a whole series of muscles and joints throughout the body. This provides me with an overall sense of well-being," notes Jeff. He credits Pilates to his enjoyment of more restful sleep, better balance, and improved posture. Jeff continues, "The stamina and muscle control I developed through Pilates benefits my other workouts at the Center."
Jeff discovered Pilates as a nourishing method of fitness, enabling him to accomplish an overall healthier life. Pilates begins by oxygenating the body through cleansing breaths. The circulatory system is stimulated, which detoxifies the blood and refreshes the cells.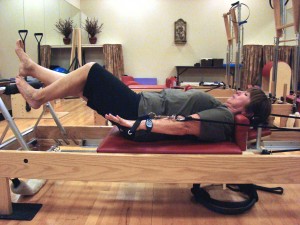 With regular practice, the body becomes stronger and more flexible without imbalances. A strong core supports the spine, often reducing chronic aches and pains. Free, graceful movements help prevent injuries. Misuse of muscle groups is more quickly detected and fixed through this mindful approach to movement. Overcompensation is less likely in this body where muscular and skeletal systems work in harmony.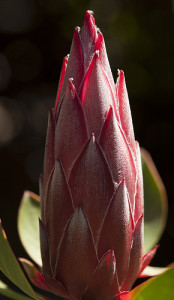 Proper physical alignment works to prevent everyday aches and improve daily functioning. The sense of balance is not only noted in a well-sculpted body and impressive abs. It can be felt in a deeper awareness brought on by an integrated body and mind. It can be seen in a truly joyful smile.
That is the Pilates body.
Sources
"Pound-Melting Pilates Workout," by Jen Ator at www.womenshealthmag.com.
www.about.com
Image Credits
Jumping rope: www.flickr.com/photos/andrewmalone/5103312233/
Tall flower: www.flickr.com/photos/21560098@N06/10112833835/
Related Articles: