by Michelle Sutton-Kerchner
Springtime shines a spotlight on runners as they hit the sidewalks, trails, and tracks. Seeing these energized soles is inspiring. Consider lacing up and joining them. Here's why and how …
Top Benefits of Running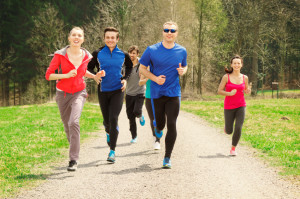 Runners express varied reasons for dedicating themselves to this sport. It may not begin as easy fun. However, after some hard-earned progress, most become addicted to the physical and mental rush. Some of the top perks include:
Weight loss

Lower blood pressure and cholesterol

Increased energy

Improved low-level anxiety and depression

New friendships or enjoyable solitude (Your run. Your choice.)

Discovery of new scenery at different locales

Ability to train indoors as well as outside

Stress relief

Participation in meaningful races and fundraising events

Increased self-confidence
How to Hit the Ground Running
Obviously, you can't go from the couch to the seven-minute mile without some sweat and panting (and maybe even mild language) in between. Be realistic. Know there will be challenges and envision your own personal finish line. Hey, it can be at the corner stop sign. Or the next block!
Once cleared by your physician or healthcare practitioner, take your next step to becoming a runner. Here are suggestions offered by runners and fitness professionals: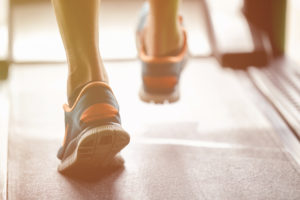 Walk before you run. Commit to a specific number of steps, miles, or minutes to walk daily. Add in short burst of running at an easy pace. Increase these bursts until they account for most of your duration.
Use the Center's equipment to train. With something like the treadmill, you can increase intensity and duration without concerns about terrain, weather, and location. Get comfortable with your fitness level before you add outdoor variables. It's also a great way for the self-conscious runner to become established before being on display for the whole neighborhood.
Despite running season's association with warm months, Personal Trainer Jim notes it requires year-round training. This includes active warmups, endurance routines, as well as strengthening. He urges beginners not to become overzealous by the lure of warm, sunny days and a new venture. "Don't go too far, too fast. Pace yourself to avoid setbacks," he advises.
Jim also suggests training with a group, whether for a mini-race, triathlon, or neighborhood jogs. "A group offers mutual support. Runners can teach and motivate each other. Plus, running [like any exercise] can be more fun with a social aspect." Consider gathering some of your running buddies and signing up for a few Small Group Training sessions at the Center. The camaraderie may be just what you need to go the extra mile.
Get properly fitted for high-quality running shoes. Specialty stores usually offer professional fittings, which include monitoring gait and proper sizing. Often runners themselves, these store associates may even share their own running tips. And, if shoe issues develop, you have a reputable store to help.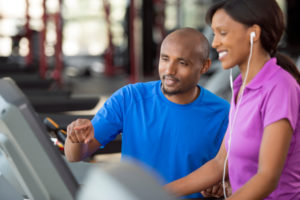 Participate in a running clinic/seek expert insight. More than a group of likeminded exercisers, a running clinic helps beginners and advanced runners by providing professional support and instruction. Often, physical therapists and personal trainers collaborate with the runner through a process of analyzation and movement screenings. A training program is created, which includes any needed corrective exercises.
Physical Therapist Chris mentions, "It is not uncommon for runners to develop pain from an unknown origin after a while. Often, this is the result of poor running mechanics." To avoid this problem, and lingering issues, Chris says consultation with a trainer and physical therapist can help. They can determine the runner's baseline movement competency and perform Functional Movement Screening (FMS).
"This information helps create an appropriate fitness plan. Through expert guidance, baseline scores improve and the risk of developing a chronic injury from bad habits is reduced," he indicates.
Do the walk/run combo. This is not a sign of failure. It may be the difference between turning back and finishing your run. Energy level, heat index, and sore muscles may signal a need for a walking break. Shift to a walk before your form suffers to avoid injury.
Focus on distance before speed. Experts recommend running at a comfortable pace for at least three months before picking up speed. Increase strides gradually over those weeks. Go farther, not faster or risk injury from too much, too soon. Slow and steady wins the beginners' race, regardless of the finish line's location.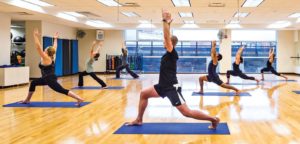 Always warm up and cool down. This helps prevent cramps, side stitches, injuries, and lingering sore muscles. A side stitch is a sharp pain under the lower edge of the ribcage. They are commonly the result of quick, shallow breaths often puffed out by newbies.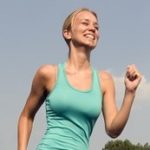 Complement your running regimen with yoga classes. Breathing deeply from your stomach rather than your chest allows maximum intake of oxygen. This fuels your run and helps you avoid cramps. Shallow breathing can lead to side stitches, and finishing a run before you really start.
Take all this in stride. In a flash, you'll be experiencing that "runner's high."
Related Articles: