by Michelle Sutton-Kerchner
You've made the decision to exercise more. You're ready for action. What's holding you back …
Aside from the thousand little excuses that often hold us captive when we try to embark on the unknown, one has the heaviest chains: Being clueless.
Fitness newbies, unite! It is time to "own it."
When new to fitness, it is common to feel apprehensive. For those attempting to work out in public, getting started may have its own concerns. It's one thing to trip over your own feet in private while learning to kickbox, a whole other when in a class full of exercisers in front of a mirror.
There is also the issue of what to wear. Perhaps your last exposure to exercise was during the 80s. You may have hit the gym Olivia Newton-John style– all headbands and legwarmers with belted leotards. Ah, the memories. Let's not go there.
You can overcome fitness fears, and begin or progress your workout, without feeling foolish. It's a matter of preparation and information. Everyone has experienced a first day on the Exercise Floor, an initial visit to the Center. New challenges naturally may feel overwhelming or intimidating.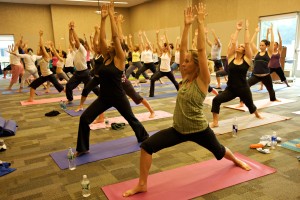 Know the smiling class, who moves in unison to the latest Group Fitness music, each experienced his/her own first day. For some, it comes easily. Perhaps this can be credited back to Little League days, a childhood gymnastics class, an outgoing personality. For others, it's more of a challenge. A warm-up takes on new meaning for these newcomers who need time to observe, and do a little self-talk.
You chose Center membership, so you already know all fitness levels are welcome. Unlike a stereotypical vanity gym, the Center takes a holistic approach with wellness as the focus. You are among rehabilitation patients progressing their physical therapy as well as the next Ironman participant. Be at peace. Know you are where you belong in this fitness community. Whatever your needs, the Center team likely has experience with them. That is your benefit of our diversity.
Despite reality, you may still feel awkward. Invoke the support of a personal trainer or Group Fitness instructor. Ask many questions. Learn how to use the exercise equipment from the experts. Understand the requirements of a Group Fitness class so you know what to expect. Ask for suggestions on how to modify movements to meet your goals and capabilities.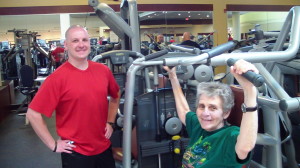 Personal trainers are approachable, professional, and happy to help. Many have overcome physical obstacles of their own, including weight loss and rehabilitation. If possible, invest in a few sessions of personal training. Learn correct form and proper technique. Confidence will follow; fear of the unknown will subside. You will be "in the know." Soon, you'll be a fitness veteran showing others how to operate the equipment.
Members often comment that time under a trainer's guidance allows them to feel comfortable, and reality becomes clear. Others are working hard to create their own healthier life. Center time means self-time. People focus on their own routines, not how many sit-ups their neighbor can do. And, they do not notice if you're wearing the latest workout styles or the t-shirt and shorts you wore to bed.
Take time to get acquainted. Walk around, become familiar with your surroundings. Sit down with your water bottle and observe the activity. Note the realness of it. Real people, struggling and accomplishing, often simultaneously. People of all sizes, shapes, weaknesses, and strengths are doing their personal best. Be motivated to start your journey along side them in your own direction, at your own pace.
Emphasize the Familiar
If you love to spend time in the water, go to the pool. You don't need to be an Olympic swimmer to benefit from aquatic fitness. It is a great place to start, whether in a Group Fitness Aquatic class or floating solo. Take it slow. Build up momentum. Perhaps spend your first visit soaking in the spa pool. Make the experience enjoyable as you become familiar. It will be easier to acclimate and return another day.
If you love the mechanics of working specific muscles, hit the Exercise Floor. Head to the machine or weights familiar to you. As you become familiar, challenge yourself to try something new. Observe, listen, and inquire. When you feel ready, go for it.
No one is there to judge you. If you are concerned about making a mistake or looking foolish, bring attention to yourself. Contrary to the advice you would expect, trying to blend in with the walls is not the best solution. Make a joke to a passerby, neighboring cycler, or personal trainer: "I'm about to tackle the rowing machine for the first time. Stand back, everyone!" Supportive laughter and a friendly fist pump go far.
Share this camaraderie with other members. Experienced exercisers also must frequently attempt the unfamiliar for workouts to remain effective. Pay it forward and reap the gains of a nurturing environment.
With several go-to exercises, you will always be prepared. After a rough day, this routine can eliminate stress. It may not be your day to swing around that foreign object called a kettlebell or attempt Zumba™. Do not skip your workout with the excuse of not feeling up for "all that." All that can be a simple walk on the treadmill or a swim in the pool. A newbie can quickly establish a comfort zone. It is a lifesaver to a workout threatened by a demanding day.
The Established Exerciser
Unless you began your current fitness routine within the past month, it is probably time to consider your next program. Studies show an exercise routine needs to be updated about every six weeks to remain effective. Otherwise, the brain and body get bored. Muscles build memory. Progress plateaus. The couch seems to grow more comfortable at workout time. Even fitness veterans must become beginners again as they learn and advance.
Remain realistic. You have gotten good at your current routine. Maybe you can accomplish it in half the time. You might have increased your weights. Progress was made. As you embark on a new routine, pace yourself. Spend a few sessions working slightly below your peak as you become familiar. And, just because you are a fitness veteran, do not push yourself to extremes. We are all impressed with your progress. You don't need to hit the ibuprofen from overdoing it to prove anything. Besides, no one is really paying attention. As a long-timer, you already should know that.
Plan ahead. Determine which areas are going to be the focus of your next fitness routine. Chose one or two new exercise methods to incorporate. You can even learn ways to tweak a workout mid-way through the six-week cycle to keep fresh and focused. If you don't work with a personal trainer, discuss these updates during your next complimentary trainer evaluation.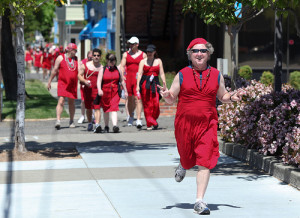 Group Fitness instructors can recommend classes similar to those you currently enjoy. Quarterly Les Mills launches freshen up current classes with all new moves and music. If you find the sweat factor is diminished, ask your instructor how to kick it up a notch. S/he also can suggest more intense classes to advance your current skill level. The Center, with all its offerings, excels at preventing stagnation.
Always Learning
Today, discover your inner belly dancer. Tomorrow, you may find a marathon is in your future. This might be your moment to take a much-anticipated step without the assistance of a walker. Never think something is too crazy or unreasonable. The attempts we make throughout life often lead us down a new path to self-discovery.
This is your time. Make your move. Set it in motion and the details will follow.
Image Credits
Reach for stars: www.flickr.com/photos/restlessglobetrotter/3325862580/ by xJason.Rogersx
Red runner: http://www.flickr.com/photos/29233640@N07/5676417063/ by RCB
Related Articles: