by Michelle Sutton-Kerchner
After the body undergoes the harsh realities of a severe illness or disease, where does one go? The Center's Wellness Programs bridge the gap between clinical treatment and recovering to your new normal …
Continuum of Care
When diagnosed with a serious health issue or life-threatening disease, next steps are usually straightforward. Any doubts can be clarified by obtaining additional opinions and your own research. At this stage, a team of healthcare experts are available to answer questions, provide support, and administer treatments.
Specialists in their field, they know what must be done, when, and how. For an oncology team, cancer is their daily work. The treatment process is put into place for the patient from start to finish. The patient works with physicians to begin the aggressive fight against disease.
Once clinical treatment is finished, for example surgery or chemotherapy, the patient is suddenly required to act independently. Physicians routinely advise follow-up rehabilitation that evolves into appropriate fitness and nutrition programs. Mentally and physically exhausted, many proceed to their couch for comfort, fearful of further injury, illness, or additional fatigue brought on by post-rehab therapy.
With the weeks following, impairment is mistakenly considered part of the healing process. Often unaware of how to proceed, advice from healthcare practitioners goes ignored. Patients avoid prescribed follow-up therapies out of trepidation and misconceptions, without strength to investigate on their own.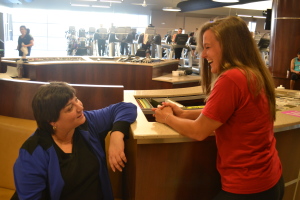 The Center's Wellness Programs, offered to those with special health needs, navigate the patient through this unknown territory. A team is created to deliver services in the right time and order. Each individual can progress beyond the clinical baseline to become his/her healthiest again.
Dimensions of Wellness
Tim Marshall, Director of Research and Program Development at Fitness and Wellness Professional Services, emphasizes the Program's goal of formalizing the connection between hospital services and Center offerings. "To be successful, the healing process needs to be unified. Our Program cross promotes, with simultaneous participation in all areas of rehabilitation in one centralized location," Tim shares. The focus is broad to facilitate all areas of recovery, incorporating support groups, physical therapy, nutritional consultation, post-rehab fitness training, and behavioral counseling.
"The Center provides a safe, efficacious environment where one can comfortably transition from clinicians to personal trainers with guidance throughout," adds Tim.
Ongoing care for disease management and recovery is coordinated, and strategies are provided throughout the individual's journey. Healthcare providers work as a closely connected team, which allows the patient to benefit simultaneously from multiple programs and services. Recovery is expedited; outcome is improved.
A healthcare practitioner refers a patient to the Program. S/he provides ongoing health updates and oversight. A facility navigator is assigned who guides the patient through the Program and liaises with all involved, including the Center nurse, on-site physical/occupation therapist, and exercise professionals.
The Wellness Programs consist of an exercise component as part of the healing process. After being discharged from physical therapy, the individual is assigned to a personal trainer who specializes in the issues involved. Exercise sessions follow disease-specific guidelines of the American College of Sports Medicine. Center members and non-members can participate in 16 supervised exercise sessions over eight weeks for a reasonable fee. (These costs may be covered by some insurance wellness policies.)
The Program provides a natural segue through the various stages of recovery. The supportive aspect assures compliance. In many cases, a proper exercise regimen can drastically impact long-term quality-of-life. There is a growing body of quality evidence to encourage cancer patients to trade 20 minutes of rest for the same of exercise. Research has led the American College of Sports Medicine to revise recommendations after evaluating literature on the safety and efficacy of exercise during and after cancer therapy.
Exercise is beneficial when overcoming countless health issues. It is frequently "prescribed" to combat everything from depression to heart disease. When healing from surgery or illness, it complements other therapies. It helps you return to life, sometimes in better physical capacity than your former self. Formally transitioning to a customized exercise program as part of your recovery journey is the best way to assure compliance. And, the benefits are not only physical.
In the general population, exercise has been shown to improve mood, relieve anxiety and depression, and combat fatigue. These are common challenges endured by those undergoing cancer, cardiac, diabetic, and other medical treatments. Attitude affects the body's ability to function and respond. A safe, invigorating workout encourages a positive outlook and improves self-confidence. During recovery, it is essential to believe in yourself and your body's capabilities. Exercise accomplishments can reflect your outer and inner strength.
Terry's Story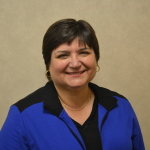 Terry is a survivor.
In 2012, she underwent surgery for lung cancer, immediately followed by chemotherapy and radiation. In her debilitated state, she then suffered through two lung infections. Her condition was fragile, often leaving her short of breath and coughing. Unable to raise her arms over her head without a severe coughing spell, she struggled to perform daily necessities.
Her physicians advised her to exercise. Terry struggled to breathe during routine tasks. She could not determine how to manage breathing through a workout. In March 2014, she telephoned the Center to cancel her membership. The call was life-changing. Terry was introduced to the Cancer Wellness Program during that conversation.
"I wanted to exercise and help my situation. I simply didn't know how. I could not figure out how to breathe and exercise at the same time," admitted Terry, who couldn't tackle the stairs without coughing and losing breath. At this stage in her recovery, Terry could barely speak because of excessive coughing. The lung cancer and infections left her weak and struggling.
She began her work with Personal Trainer Lori Kuzma while simultaneously undergoing physical therapy. Her sessions were coordinated between the two therapies to be complementary. At the start, much of the hour was spent taking breaks for Terry to catch her breath or control her coughing. She emphasizes, "It didn't matter what I was doing but that I had a plan." She was no longer traveling this unfamiliar territory alone and in darkness.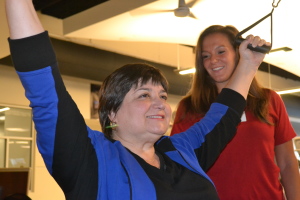 Lori taught Terry how to breathe through exercises, which she specifically chose to help Terry function better.  Simply knowing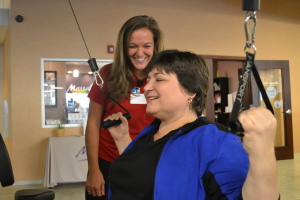 when to inhale and exhale during movement made a difference in Terry's abilities. Lori helped Terry learn to breath calmly and naturally so she could perform activities her life required, like catching a train.
Breathing may seem like a given in life. However, according to Lori, 90 percent of people don't breath properly during exercise. We tend to hold our breath. Pause at any given moment, and you may find yourself holding your breath. For someone with lung cancer, this is extremely detrimental.
Using a pulse oximeter (blood-oxygen monitor), Lori measured Terry's oxygen levels throughout her sessions. She knew when Terry needed to break for a recovery period, and when she could be safely challenged to go further. They advanced slowly so Terry could conserve her much-needed energy for ongoing healing.
Exercise strengthened Terry's lungs. Her coughing, once constant, decreased to only a few times daily. After three months, Terry's evaluation tests were repeated, showing improved scores. However, Lori indicates her improved functionality was more noteworthy.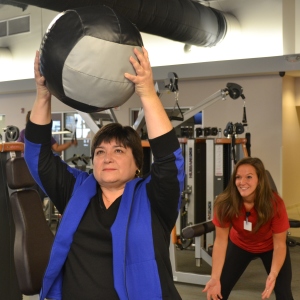 "I was not in the greatest physical condition when the cancer arrived. This Program was a Godsend, an answer to my prayers. I was supposed to exercise but I couldn't imagine how to begin," Terry informs. She urges others who are lost during an illness to realize there is hope. "No matter how much you are struggling, you are going to benefit. This [Program] will move you in the right direction."
A poet, Terry penned inspirational pieces during this detour in her life. Here is an excerpt from her compilation book, New Love Poems, which is soaring internationally on social networks and earning five-star reviews on Amazon.com. Take this with you as you journey through your day:
This heart of mine wants to rush forward and leap
like the finest and fastest of long distance runners,
outpacing all the rest in my
display of stamina and fortitude and…heart.
(From "My Fancy Dancing Prancing Heart," completed during Terry's illness. Available at bookstores and online.)
Recover Better
To learn how the Center's Wellness Programs can help you or your loved ones recover more completely, fill out the form below to contact Tim Marshall, Director of Research & Program Development. Center membership is not necessary. Group and individual enrollment is available to meet each person's needs, budget, and health issues. Both are eight-week programs that meet twice weekly. You do not have to journey alone.
Request more information about our Wellness Programs
Sources
www.acsm.org
Related Articles: