by Michelle Sutton-Kerchner
Save time! Know the perfect present to give, with a focus on health. From fun to practical, a little box of wellness wrapped in a bow is always appreciated …
You may not be able to de-stress your spouse or improve your buddy's game on the playing court. However, a tool for a healthier lifestyle can be the inspiration needed to accomplish it on their own. Spread holiday cheer with these thoughtful gifts that motivate.
Pen Downtime: Our thoughts are one of the most influential elements of our daily success. Providing an outlet for them is a healthy release, and offers opportunity for reflection.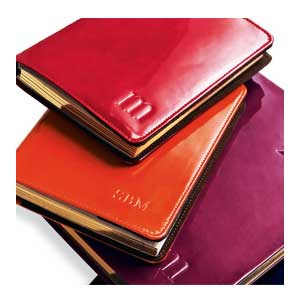 Fitness experts recommend keeping a diary to record your efforts at healthier living. Perhaps log your workout hours, performance, and nutrition. Be sure to note goals and progress at obtaining them. Seeing your numbers improve– whether cholesterol, weight, or cardio stamina– adds rocket fuel to any fitness journey.
Although you may not be able to provide the downtime, a journal with an inviting cover and accompanying pen can be appreciated even by the list-makers in your life. There are styles to suit any personality, from sophisticated leather to those with parchment paper interiors. Consider one that has inspirational quotes, which are proven to increase happiness for those who ponder them.
For the Traveler: Help them stay committed with basic exercise pieces to keep going when the Center is out of reach. Exercise bands and hand weights go everywhere. Reps can be managed even when leaving the inside of a business conference hotel cannot. Don't get caught up in brands and styles. Go for the basics. The less complicated, the more likely they are to be packed and used.
Athletic Socks: Not much of a present, it may seem. However, if you've experienced sock sag or soak while busting some cardio moves, you understand why this is a thoughtful gift. Choose a pair with moisture wicking to reduce dampness. Make sure they are snug around the arch for support, yet cushioned at the ball and heel. A good pair of workout socks can take you a long way. These make great token gifts for a group of workout buddies in your fitness class or a favorite training companion. Often, they come in packs of two or three. Split them apart and distribute happy feet.
Go a step farther and include a gift card for a pedicure!
Fitness Attire: Yoga or otherwise, new workout duds are always useful. A new shirt or hoodie may be just what's needed to hit the Center during the dreary parts of winter. Go for sweat-wicking fabrics. Elastic waists and fabrics with plenty of stretch accommodate those on a weight-loss mission.
Don't forget the lifesaver for every Group Fitness class attendee. Mats aren't only for yogis. And, sling styles often have pouches to store keys, a cell phone, and other worldly stuff. Skidless towels work, too. Regardless of age, workouts are easier accomplished when done on a mat verses the hard studio floor. It's often during our wiser years we remember this fitness "accessory." However, bones, young and old, enjoy the comfort of a little padding. Focus on the stomach-crunch burn, not the brush burn.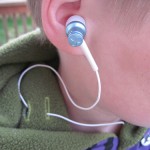 Music to Move By: A portable listening device, such as the famous iPod, gets even the couch potato moving. Available at several price points, these audio gadgets allow the user to create a customized selection of music from Internet sites. They can rock to their favorite tunes as they work out.  If they are introducing exercise into their lives, it's hard to resist physical activity with the temptation of upbeat songs. Personalize it! Upload a music library of fitness tunes to get them started.
For MP-3 ready recipients, consider a gift card to an online music source, such as iTunes. For $25, they can create a whole new playlist of songs to freshen up their workout routine.  
Wear It Well: Hoodies and tops that accommodate tune players are a fashion innovation. With mini pockets and routing for cords, you can enjoy hands-free listening without tangles. This is especially convenient when wearing form-fitting workout gear, which often lacks pockets.
Build a Healthy Kitchen
Some cooking gadgets should be saved for TV experimentation. However, owning a few nutritionist-approved kitchen accessories can make healthy eating easier and, maybe, fun.
A salad spinner seems a gift that has lived beyond typical gimmick-life. The assumption: People like their lettuce and veggies dry so as not to dilute portion-controlled dressings. Good idea. Having one at the ready may also encourage more salad eating, at least until the novelty wears off.  Make it excuse-free by including accompanying ingredients. With chopped veggies, lettuce, and gourmet dressings, you might be joining the recipient for a spontaneous healthy treat.
Consider gifting an olive oil spray bottle to salad lovers. Let them make their own dressing. Some models allow infusion of herbs and spices. Or, they can simply transfer their favorite bottled brand to avoid pouring too many calories on their otherwise healthy meal. A little spritz goes a long way.
A countertop grill allows delicious flavor and reduced-fat preparation during the coldest, wettest days. Though it may not be ideal for s'more making, it can bring back memories of July's barbeques.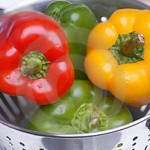 Fish, veggies, and rice get cooked to perfection with a steamer. Along with the olive oil spritz bottle, you may actually get the butter lover in your life to cut back. Steaming tends to emphasize the natural flavors in food, causing less need for salt, gooey cheese, and other questionable flavorings.
Portion control is simplified with a food scale. For those who monitor calories or have other dietary requirements, this scale guides the way. High-tech versions have built-in memory for frequently eaten dishes and a database of common foods.
Worst case: These gifts get proudly displayed on kitchen counters so friends and family can feel like foodies even if the local take-out restaurant knows otherwise.
For times when the kitchen is "closed," give them some munchies. Create your own nutrient-packed basket filled with healthy treats. Toss in some homemade granola (or a gourmet blend from your favorite store), green tea bags, whole wheat crackers, soy crisps, dried fruit, almonds, an environmentally friendly water bottle, and perhaps one or two of the previous suggestions. (A gift card peeking out makes the gift extra special.) Complete it with a little dark chocolate and a bottle of red wine. You know, for heart health.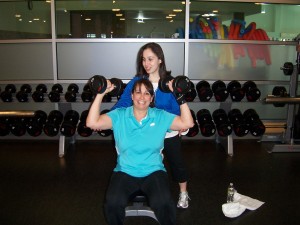 Personal Training Sessions: A one-on-one training session can be the perfect motivator for an inconsistent exerciser, someone setback from an injury, or an avid exerciser striving to reach the next level. Customized fitness programs created especially for your gift recipient deliver a unique, personalized gift at every session.
Workout programs focus on personal strengths, consider any weaknesses, and evolve with the client. Those with hectic calendars can schedule the sessions at their convenience. Having a personal training session planned in advance helps assure loved ones make time for themselves and their health.
The Center offers package deals that make excellent holiday gifts. Perhaps gift a few sessions to a loved one. Their efficient progress and newly discovered insight will probably put this present on their perpetual wish list so you're ready for the next gift-giving occasion.
See the Front Desk or contact the Center's fitness manager to purchase personal training sessions. You can even deliver your gift with a suggested trainer. View biographies of the Center's personal trainers by clicking on Services on the Web site's Home page, then Personal Training, then Staff. Find the ideal match!
Share the Gift of Membership: As a member, you're aware of the Center's many and impressive amenities in accomplishing a healthier lifestyle. Welcoming family or a friend with a membership sends the ultimate message, "I care about you." Often, those in our lives need a little push to get started. With a membership, you help them commit to making smart choices for themselves.
This is a generous gift of encouragement that helps improve quality-of-life. You'll be receiving their gratitude for months to come. Plus, you can enjoy peace-of-mind knowing your friend or family member is living their healthiest life with an active membership. That's a gift to you, as well.
Visit the Front Desk or the Center's sales staff for information on holiday gift memberships.
Healthy Knowledge: At the holidays, or any time, share a subscription to Fitness & Wellness News, the Center's e-magazine that brings you these weekly informative articles.  It's completely free and full of useful tips for living your healthiest life possible. It's a great tool available at your disposal as a member. Simply go to www.fitnessandwellnessnews.com and follow instructions in the Subscribe box in the right-hand column. You may even wish to share this article via the button at the end of the article. Your friends and family are probably wondering what to buy you for the holidays!
Gifts to Avoid
There are better ways of eliminating folks from your life than by giving them an offensive gift. Although your BFF may gripe about her not-so-smooth dress line or an uncle may complain about his beer gut, holidays aren't the time to address these issues. These type of gifts don't exactly give the right message.
If someone is expecting undergarments, it surely won't be the girdle-type that puts intestines in a compromising position. There are more comfy ways to portion control. A new (albeit black) tummy-tucker chemise might be the stuff of sis' wishes but not necessarily her dreams.
A diet book of any sort, although well meaning, probably won't excite them as much as a best-selling novel or life-changing philosophical work. Plus, you may indirectly confirm the recipient's insecurities over weight or health issues. No one wants to do that, at the holidays or anytime. If you know your pal is looking to lose, go for a healthy alternative. Try a new kitchen tool to help them eat better–even an apple corer. It'll last longer than any fad diet. 
It's the Thought– And Deed– that Counts
Snow brings opportunities for gifts of kindness.

A holiday gift guide wouldn't be complete without the annual reminder. People always remember how you, as a person, make them feel, regardless of what is wrapped up.

The best gifts often don't come from a store. They originate in your heart and manifest in snow shoveling, house cleaning, a home-cooked meal, or a cheerful visit on a dreary day. Get creative! Put your healthy, toned body to work for those on your list.

Commit to being of service to others, even when not necessarily convenient. This year-round gift is twofold: for the recipient and for yourself.

 Source

 The Fitness Gift Guide at www.fitnessmagazine.com

Image Credits

Holiday bows (introductory photo): © Johanna Goodyear at www.dreamstime.com

Stack of journals: http://www.flickr.com/photos/clarice77/2108507371/

Earbud hoodie: http://www.flickr.com/photos/kellyhogaboom/6154329624/

Fresh peppers: © Phartisan at www.dreamstime.com

Snowy window: http://www.flickr.com/photos/shezamm/5412561212/

Related Articles: