by Michelle Sutton-Kerchner
Spring weather inspires physical activity. Even TV binge-watchers abandon their favorite shows for a starry stroll or change of scenery. Head out healthy with these tips …
Whether training for an outdoor event or sport, or wishing to catch that alluring spring fever, it may be time for some outdoor exercise. Smart planning can help your outdoor workout complement everything you accomplish year-round at the Center.
Transition Gradually
Allow time to adjust. After months of indoor cycling and treadmill runs, your body is accustomed to controlled climate and terrain. Taking your run or ride outdoors means dealing with the elements. Replace one indoor session with an outdoor one. Gradually, switch out one or two more.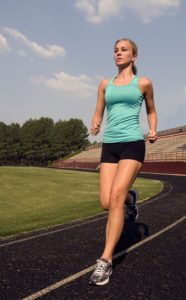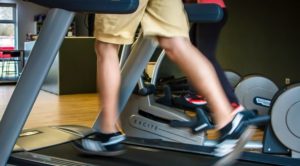 Consider splitting your longer workouts in half. For example, run half your miles on the treadmill and half outside. Find a local track to use for running and a path for biking. Smooth surfaces will be gentler on joints and muscles. As you adapt, advance to the sidewalk or street for running and rougher terrain for cycling.
Modify Your Indoor Workout
Use your Center time to challenge your skill level. Basics like speed, duration, and intensity can be controlled more easily and precisely via exercise equipment. For example, increase the incline of the treadmill to mimic the cardio demands of your outdoor run. Add minutes to your indoor cycling session. Maintaining some indoor sessions, with its controlled environment, also helps reduce physical stress. Additionally, you won't be affected by wind, sun glare, wet roads, and allergies.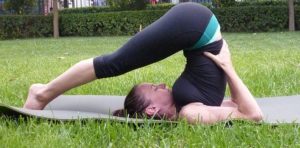 A personal trainer or fitness instructor can help prepare you for outdoor exercise and other physical activities, like gardening or washing your car. Even if you're not a runner, cyclist, or swimmer, a fitness expert can customize a take-away workout to be enjoyed among nature. Nature makes a great backdrop for everything from supplemental stretching to kettlebell work. (And think how impressed your neighbors will be!)
Wear Sunscreen
When the weather is still mild, we tend to discount the sun's strength. Be assured, harmful rays don't wait until it hits 85 degrees. Use sunscreen on exposed skin. Don't forget to protect your eyes with sunglasses. Keep a baseball cap or wide-brimmed hat in your car or bag to cover your face and eyes during quick jaunts.
Dress Appropriately
Invest in a decent windbreaker with a hood. These are lightweight yet protective, especially when the sky threatens those spring showers. They also provide convenient pockets to stash keys, phone, and earbuds. Wear light layers. Spring air can be crisp; however, once you get moving, you'll wish you ditched the bulky sweatshirt. Nothing attests to this more than the hoodies you see tied around the waists of joggers. (Talk about a speed hindrance!)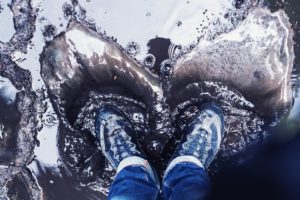 Outdoor fitness can be great fun. A little preparation maximizes its positive impact on your fitness level and mental health. Get busy and soak up some sunshine. But, remain true to your indoor routines. Like an old buddy, they provide the right amount of predictable comfort and challenge. And no insect repellent is ever required.  
Image Credits
Outdoor cycling: pixabay.com/en/road-cyclist-trees-overhanging-823199/
Treadmill run: pixabay.com/en/fitness-treadmill-running-957115/
Outdoor run: pixabay.com/en/runner-training-fit-athlete-808932/
Yoga pose: pixabay.com/en/young-woman-yoga-fitness-asana-1178146/
Wet sneakers: pixabay.com/en/water-feet-inject-wet-romance-790375/
Related Articles: