by Michelle Sutton-Kerchner
You've undergone a great deal already. Make sure post-op care and rehab are the starting point of a new, improved you …
This could be a life-changing opportunity for you. Most likely, you've suffered through pain and trepidation leading to your surgery. For tips on preparing for surgery, see "Pre-hab: Fitness before Surgery (F&W News February 2011, www.fitnessandwellnessnews.com/health/pre-hab-fitness-before-surgery/).
With that behind you, it's time to activate your post-surgery healing plan. Physical therapy– with its focus on stretching and strengthening, and its routine nature—is excellent preparation for making a commitment to fitness. Whether you're a seasoned athlete overcoming an injury or a senior trying to regain mobility, surgery can be the ultimate motivator.
Rehabilitation and physical therapy typically follow surgery. Skilled healthcare experts guide you along those initial post-operative days. The amount of sessions usually depends on the procedure, your progress, and health insurance. When finished with physical therapy, here are suggestions to keep you moving forward without having to step back.
Continue with your therapy program. Make the most of your time in rehab and physical therapy. Learn as much as you can about your "new" body, including any limitations and expectations. Use that information and your therapy exercises as a foundation for future fitness. Slowly expand your workout to include other body parts. A personal trainer can suggest techniques to take current movements to the next level. S/he can also customize a full-body routine. Get back into action and work areas beyond the troubled spot that may have been neglected.
Create a support group. It's common to experience depression after a major operation. Mental challenges accompany the physical. Disrupted routine, altered sleep patterns, soreness, and restrictions can trigger feelings of sadness and loneliness. At earliest possible, get outside. Enjoy some fresh air, even just for a few minutes. Surround yourself with people who care.
At the Center, many members are working to overcome injuries, perhaps even their own surgical procedures.  Encourage yourself to talk with others. A personal trainer or Group Fitness instructor may be able to introduce you to members who are experiencing their own recovery process.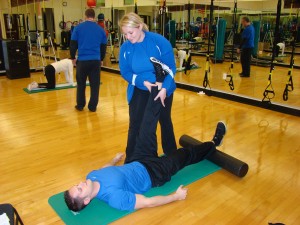 Fitness Manager RJ Pietrucha recently underwent his third reconstructive knee surgery. Despite being a personal trainer and manager, RJ hired trainers from his staff to help him rehabilitate.
"A support network is a huge boost for any fitness program, but especially after surgery," attests RJ. He claims his trainers got him through some tricky times during recovery. "Their guidance and fresh perspective has been a great asset. With their watchful eyes, I can let myself off the hook and focus on the actual exercises. They take care of the rest."
A gentle Group Fitness class is also a fun way to meet others and lift your spirits during recovery. You may discover a new class and friendships that endure beyond this episode in life.
Rebuild Your Cardio Capacity. Depending on your pre-op condition, your physical activity may have been restricted. Pain or injury might have limited activities for months prior to surgery, followed by surgery that can cause its own restrictions.  Combined with the affects of an operation (anesthesia, trauma to the area, and such), you may find yourself getting winded just walking up a flight of stairs.
Along with increasing strength, flexibility, and range-of-motion, it's critical to add cardio to your routine to boost energy. Everything is affected by an operation. Take this opportunity to expand your pre-surgery capacity—regardless of whether or not you exercised in the past.
Get Wet. Enjoy—yes, enjoy– rehabilitating after surgery in the comfort of the warm pool where physical stress is minimal. The water's buoyancy allows more movement than land affords.  According to Personal Trainer John Dohanic, who specializes in aquatic training, water workouts are extremely effective and efficient because the body can move in multiple ways.  John names circles, figure-eights, and diagonals as a few motions that can be accomplished in water, as opposed to the limited push-and-pull movements commonly practiced on land.
As a result of injuries and subsequent surgeries, John was driven to find a solution for his chronic pain. Young and athletic, he struggled to repair a body pushed beyond healthy range.
"I was a football player and weightlifter. In high school and college, I would load on the weights during a lift session. It took its toll," he admits.  Excessive weightlifting puts a strain on joints in much the same way obesity does. It stresses joints, leaving them predisposed to injury and the possible need for replacement. "When lifting weights, it's important to have guidance from a professional. Undertaking too much may reverse your fitness endeavors," advises John.
In an effort to overcome frustration and pain, John took to the water. He earned his certification in aquatic training and experienced a dramatic improvement in his rehabilitation. "In the water, there was no pain. My whole body got stronger. You get addicted to this invigorating workout. And, you get results," shares John. He traveled to California to become certified in isokinetic exercises, a highly advanced form of aquatic training. Isokinetic uses specialized aquatic equipment to give strength training a new dynamic.
"If I started my rehab in the pool, it would've taken one year to recover instead of two. I am excellent now. I can do anything I could before," he says, evidenced by his enthusiastic participation in triathlons.
Aquatic training sessions at the Center can be purchased just as any other personal training packages. The water reduces pressure and soothes so you can focus on training, without mobility restrictions and joint stress. Check the Center's Web site to find a personal trainer who meets your needs. (Pull down Services, Personal Training, and then click on Staff.)
Listen to Your Body. Don't ignore pain. Both RJ and John suffered setbacks as a result of doing too much, too soon.  When you are recovering from surgery, don't push through the pain. Your physician can provide expectations on how your body should feel after an operation. S/he can also give a general timeframe for your progress.
"I knew I had surpassed my capabilities when I started hurting in a different area," admits RJ. He developed tendonitis, an injury separate from his knee reconstruction. Often, muscles atrophy as a result of injury and surgery. In this weakened state, injury in the same or a different area can easily occur. Also, when the body is not fully functioning, movement is hindered. In an attempt to compensate for a weakness, the body can develop a secondary injury by misusing other muscles.
Overcome a Setback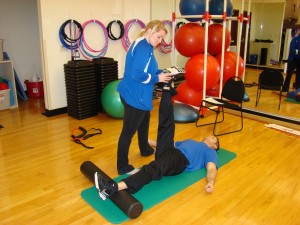 Two Steps Forward. Three Steps Back. It happens. You push too hard. Do something klutzy. Or, simply fall behind with your therapy program. Speak with your physician about this setback to discuss any physical restrictions. Your fitness program will likely be reduced to include only specific exercises as you regain strength and flexibility in the injured area. Unearth those ice packs and the anti-inflammatory medication. You'll probably need them for the first few days of your setback. Then, practice patience. It can take a while for a flare-up to calm down.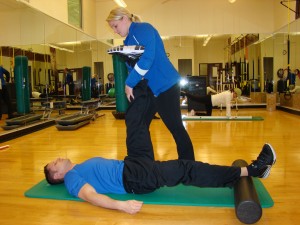 During rehab training, the area surrounding the incision/injury is the focus. By strengthening the opposing joints above and below, the traumatized area receives less stress from daily activity. This allows it to grow stronger and heal. RJ focused on strengthening his hips, feet, and ankles. This gave support to his weakened knee area so it could heal easier.
Look Ahead
Any surgical procedure is serious. It alters the body in multiple ways and leaves you permanently changed. Statistics prove that 50 percent of a surgery's outcome depends on the patient's determination to improve. Decide that this operation is the first step in a process that not only heals but inspires a healthier life.
Image Credit
Table Tennis (introductory photo): www.flickr.com/photos/gmarziou/1306166921/in/photostream/
Related Articles: